---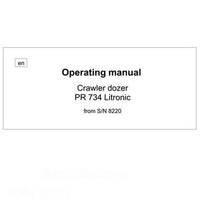 This manual PDF download describes procedures for operation, handling, lubrication, maintenance, checking, and adjustment for the PR 734 Litronic Liebherr Crawler Dozer (from S/N 8220). It will help the operator or anyone realize peak performance through effective, economical and safe machine operation and maintenance.


APPLICABLE MODELS :

Liebherr PR 734 Litronic
from S/N: 8220


TABLE OF CONTENTS :

1. Product description
2. Safety guidelines, decals
3. Control, instrumentation
4. Operating problems
5. Maintenance


MANUAL SPECIFICATION :

File Format : PDF
Language : English
Printable : Yes
Searchable : Yes
Bookmarked : Yes
Total Pages : 294

This manual provides rules and guidelines which will help you use this machine safely and effectively. The precautions in this manual must be followed at all times when performing operation and maintenance.


-


Operating manual
1. Product description
1.1 Technical Data
1.1.1 Air conditioning system
1.2 Tightening torques
1.2.1 Preload values and tightening torques for screws with stan
1.2.2 Preload and tightening torques for screws with fine metric

2. Safety guidelines, decals
2.1 Introduction
2.2 Proper and intended use
2.3 Decals on the machine
2.3.1 Safety decals
2.3.2 Information decals
2.3.3 Nameplates
2.4 Safety regulations
2.4.1 General safety regulations
2.4.2 Crushing and burn prevention
2.4.3 Fire and explosion prevention
2.4.4 Machine start up safety
2.4.5 Engine start up safety
2.4.6 Machine operating safety
2.4.7 Machine parking safety
2.4.8 Machine transporting safety
2.4.9 Machine towing safety
2.4.10 Machine maintenance safety
2.4.11 Safety guidelines to be observed when welding on the mach
2.4.12 Safety guidelines to be observed when working on the atta
2.4.13 Safety guidelines to be observed when loading the machine
2.4.14 Safe maintenance of hydraulic hoses and lines
2.4.15 Safety guidelines for maintenance work on ma- chine with
2.4.16 Roll over protection (ROPS) and falling object protection
2.4.17 Attachments and installations

3. Control, instrumentation
3.1 Location of controls and instrumentation
3.1.1 Operator's cab
3.1.2 Indicator elements on the operator's platform
3.1.3 Control elements on the operator's platform
3.1.4 Hydraulic oil temperature display
3.1.5 Hydraulic oil level monitor
3.2 Operation
3.2.1 Entry
3.2.2 Emergency exit
3.2.3 Door lock
3.2.4 Operator's seat
3.2.5 Operator's seat - air cushioned
3.2.6 Vibration absorber
3.2.7 Seatbelt
3.2.8 Armrests
3.2.9 Heater, ventilation
3.2.10 Air conditioning system
3.2.11 Sliding window
3.2.12 Cab interior light - reading lamp
3.2.13 Rear view mirror
3.2.14 Electric windshield wiper and washer system
3.2.15 Compartment for documentation
3.2.16 Back-up alarm
3.2.17 Back-up alarm - disengageable
3.2.18 Fire extinguisher
3.2.19 Beacon
3.3 Operation
3.3.1 Daily operation
3.3.2 Machine operation in low ambient temperatures
3.3.3 Start the Diesel engine
3.3.4 Travel operation
3.3.5 Travel
3.3.6 Brakes
3.3.7 Taking the machine out of service
3.3.8 Guidelines for working in water
3.3.9 Working with the attachment
3.3.10 Working with optional attachments
3.4 General operating methods
3.4.1 Dozing
3.4.2 Fine grading
3.4.3 Operating several machines
3.4.4 Establishing or cutting trenches
3.4.5 Land clearing operation
3.4.6 Ripper application
3.4.7 Transporting the machine
3.4.8 Loading the machine with a crane
3.4.9 Loading the blade for quick change device
3.5 Installation guidelines to be observed for removal and insta
3.5.1 Attachment bearing shells
3.5.2 Hydraulic quick change device for straight blade (PR734L,
3.5.3 Assembly and disassembly of outside push frame with straig
3 - 97 3.6 Emergency operation
3.6.1 Towing the machine
3.6.2 Auxiliary starting procedure

4. Operating problems
4.1 Problems and remedy
4.2 Problem remedy
4.2.1 Change the fuse

5. Maintenance
5.1 Maintenance and inspection schedule
5.2 Lubrication chart, quantities
5.2.1 Quantities chart
5.2.2 Lubrication chart
5.3 Lubricants and service fluids
5.3.1 Handling lubricants and service fluids
5.3.2 Lubricants and service fluid specification
5.3.3 Changing from mineral oil to environmentally friendly hydr
5.3.4 Proper oil diagnostics analysis
5.4 Preparations for maintenance
5.4.1 Maintenance position
5.4.2 Electrical system
5.5 Diesel engine
5.5.1 Check the engine oil level
5.5.2 Engine compartment
5.5.3 Change the engine oil
5.5.4 Change the lube oil filter
5.5.5 Check / change the V-belt
5.5.6 Check the Diesel engine location for leaks and condition
5.5.7 Check mounting of air intake and exhaust lines
5.5.8 Oil separator
5.5.9 Diesel engine - Electrical system
5.5.10 Vibration damper
5.6 Cooling system
5.6.1 Check the coolant level
5.6.2 Clean the cooling system
5.6.3 Check the cooling system
5.6.4 Check the antifreeze concentration in the cool- ant
5.6.5 Change the coolant
5.7 Fuel system
5.7.1 Drain the fuel filter condensation
5.7.2 Drain condensation and sediments from fuel tank
5.7.3 Empty the fuel tank
5.7.4 Change the fuel filter cartridges
5.7.5 Bleed the fuel filter / fuel system
5 - 54 5.8 Air filter system
5.8.1 Clean / change the air filter
5.9 Hydraulic system
5.9.1 Oil level in hydraulic tank
5.9.2 Clean the magnetic rod on the hydraulic tank
5.9.3 Change the return filter insert
5.9.4 Change the filter in the replenishing circuit
5.9.5 Check the hydraulic system for function and leaks
5.9.6 Clean the oil cooler
5.9.7 Change the hydraulic oil
5.9.8 Drain water and sediments in the hydraulic tank
5.10 Splitterbox
5 - 66 5.10.1 Check oil level
5.10.2 Change the gear oil
5.11 Electrical system
5.11.1 Check the indicator lights and illumination
5.11.2 Batteries
5.11.3 Change the bulbs
5.12 Heating and fresh air system, air condi- tioning system
5.12.1 Check heater for function and leaks
5.12.2 Heater - fresh air filter
5.12.3 Air conditioning system
5.12.4 Check / clean the air conditioner's condensation drain va
5.13 Travel gear
5.13.1 Check the condition of the travel gear
5.13.2 Check the oil level
5.13.3 Change the gear oil
5.13.4 Travel gear - Seal ring area
5.14 Track components
5.14.1 Check screws and nuts on track components for tight seati
5.14.2 Check the seal on the carrier rollers, track roll- ers an
5.14.3 Idler guide
5.14.4 Chain tension
5.14.5 Changing the chain
5 - 99 5.14.6 Clean the tracks
5.14.7 Check track wear
5.14.8 Grease the equalizer bar bearing
5.14.9 Axle bearing - oil filling
5.15 Working attachment
5.15.1 Check the attachment
5.15.2 Lift cylinder bearing
5.15.3 Replace the ripper teeth
5.15.4 Check the bearing play
5.16 Total machine
5.16.1 Check the machine for external damage
5.16.2 Windshield wiper
5.16.3 Piston rod preservation
5.16.4 Taking the machine out of service
5.17 Cab - tilting device
5.17.1 Raise the operator's platform
5.17.2 Lower the operator's platform

-