---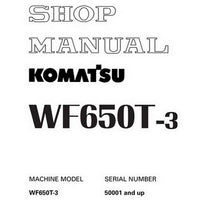 This complete service repair workshop manual PDF download for the Komatsu Trash Compactors & Loaders WF650T-3 (SN: 50001 and up) has easy to read text sections with top quality diagrams, pictures and illustrations. The step by step instructions show you how to fault find or complete any repair or overhaul, correctly and efficiently, saving time and avoiding costly mistakes. All specifications and tolerances are listed. Functions of components and systems are also explained.
APPLICABLE MODELS :
Komatsu WF650T-3
Serial Numbers : 50001 and up
Engine : SA6D170E-2
TABLE OF CONTENTS :
01 GENERAL
10 STRUCTURE AND FUNCTION
20 TESTING AND ADJUSTING
30 DISASSEMBLY AND ASSEMBLY
40 MAINTENANCE STANDARD
90 OTHERS
MANUAL SPECIFICATION :
File Format : PDF
Language : English
Printable : Yes
Searchable : Yes
Bookmarked : Yes
Product Code : SEBM027401
Total Pages : 743
This service repair workshop manual PDF download contains specs, diagrams, actual real photo illustrations, and schemes. In addition to space savings, nice thing about having completly searcheble PDF files instead of a hard-printed manual is that you can use the Search feature in your PDF reader software (Adobe Acrobat) to find just what your looking for and just print out the exact pages you need or all manual easily. This is the same Repair Service manual your local dealer will use when doing a repair.
Instant Download means there is NO shipping costs or waiting for a CD or paper manual to arrive in the mail! You will receive this manual TODAY via Instant Download on completion of payment via our secure payment processor. We accept ALL major credit/debit cards/paypal.
More Info :
https://www.sitelux.com
-
01 GENERAL
GENERAL ASSEMBLY DRAWING
SPECIFICATIONS
WEIGHT TABLE
LIST OF LUBRICANT AND WATER
10 STRUCTURE AND FUNCTION
COOLING SYSTEM
POWER TRAIN SYSTEM
TORQUE CONVERTER AND TRANSMISSION PIPING
HYDRAULIC CIRCUIT DIAGRAM FOR POWER TRAIN
UBRICATION BYPASS VALVE
TORQUE CONVERTER
TORQUE CONVERTER REGULATOR VALVE
TORQUE CONVERTER RELIEF VALVE
TRANSMISSION
ANSMISSION CONTROL VALVE
ERGENCY MANUAL SPOOL
TRANSFER
DRIVE SHAFT
CENTER SUPPORT
AXLE
DIFFERENTIAL
FINAL DRIVE
WHEEL (TRIANGLE FOOT TYPE)
WHEEL (CHPPER TYPE)
AXLE MOUNT, CENTER HINGE PIN
STEERING PIPING
STEERING COLUMN
STEERING UNIT (ORBIT-ROLL VALVE)
STEERING VALVE
TWO-WAY RESTRICTION VALVE
STOP VALVE
BRAKE PIPING
BRAKE CIRCUIT DIAGRAM
BRAKE VALVE
CHARGE VALVE
ACCUMULATOR (FOR BRAKE)
SLACK ADJUSTER
BRAKE
PARKING BRAKE
SPRING CYLINDER
PARKING BRAKE SOLENOID VALVE
HYDRAULIC PIPING
HYDRAULIC CIRCUIT DIAGRAM
WORK EQUIPMENT LEVER LINKAGE
HYDRAULIC TANK
ACCUMULATOR (FOR PPC VALVE)
PPC VALVE
PPC RELIEF VALVE
WORK EQUIPMENT VALVE
AIR CONDITIONER
MACHINE MONITOR SYSTEM
MAIN MONITOR
MAINTENANCE MONITOR
ENGINE STARTING CIRCUIT
ENGINE STOP CIRCUIT
AUTO PRIMING SYSTEM (APS)
ELECTRIC TRANSMISSION CONTROL
KICK-DOWN SWITCH
KICK-DOWN ELECTRICAL CIRCUIT
ELECTRIC PARKING BRAKE CONTROL
20 TESTING AND ADJUSTING
STANDARD VALUE TABLE
STANDARD VALUE TABLE FOR ENGINE
STANDARD VALUE TABLE FOR CHASSIS
STANDARD VALUE TABLE FOR ELECTRICAL PARTS
TESTING AND ADJUSTING
TABLE OF TOOLS FOR TESTING, ADJUSTING, AND TROUBLESHOOTING
MEASURING ENGINE SPEED
MEASURING EXHAUST GAS COLOR
ADJUSTING VALVE CLEARANCE
MEASURING COMPRESSION PRESSURE
MEASURING BLOW-BY BRESSURE
MEASURING ENGINE OIL PRESSURE
TESTING AND ADJUSTING FUEL INJECTION TIMING
TESTING AND ADJUSTING ALTERNATOR BELT TENSION
TESTING AND ADJUSTING BELT TENSION FOR AIR CONDITIONER COMPRESSOR
REPLACING FAN BELT ADJUSTING AUTO-TENSIONER
MEASURING EXHAUST TEMPERATURE
MEASURING AIR SUPPLY PRESSURE (BOOST PRESSURE)
ADJUSTING SPEED SENSOR
ADJUSTING FUEL CONTROL CABLE
METHOD FOR ADJUSTING ENGINE STOP MOTOR CABLE
TESTING AND ADJUSTING TORQUE CONVERTER, TRANSMISSION OIL PRESSURE
PROCEDURE FOR FLUSHING TORQUE CONVERTER, TRANSMISSION HYDRAULIC CIRCUIT
PROCEDURE FOR MOVING MACHINE WHEN TRANSMISSION VALVE FAILS
TESTING AND ADJUSTING STEERING OIL PRESSURE
TESTING AND ADJUSTING STEERING STOP VALVE
TESTING BRAKE OIL PRESSURE
MEASURING WEAR OF BRAKE DISC
MEASURING BRAKE PERFORMANCE
TESTING AND ADJUSTING PARKING BRAKE
TESTING AND ADJUSTING ACCUMULATOR CHARGE CUT-IN AND CUT-OUT PRESSURE
TESTING AND ADJUSTING PPC OIL PRESSURE
TESTING AND ADJUSTING WORK EQUIPMENT HYDRAULIC PRESSURE
AJUSTING WORK EQUIPMENT LEVER LINKAGE
ADJUSTING MAIN MONITOR
BLEEDING AIR
RELEASING REMAINING PRESSURE IN HYDRAULIC CIRCUIT
TROUBLESHOOTING
POINTS TO REMEMBER WHEN TROUBLESHOOTING
SEQUENCE OF EVENTS IN TROUBLESHOOTING
POINTS TO REMEMBER WHEN CARRYING OUT MAINTENANCE
CHECKS BEFORE TROUBLESHOOTING
CONNECTOR TYPES AND MOUNTING LOCATION
METHOD OF USING TROUBLESHOOTING CHARTS
METHOD OF USING MATRIX TROUBLESHOOTHING TABLES
TROUBLESHOOTING OF MAIN MONITOR SYSTEM (M MODE)
ELECTRICAL CIRCUIT DIAGRAM FOR MAIN MONITOR
ELECTRICAL CIRCUIT DIAGRAM FOR LAMP AND HORN
M- 1 Main monitor does not work
M- 2 When starting switch is turned ON and engine is started immediately, all lamps stay lighted up
M- 3 Speedometer display does not work properly
M- 4 Abnormality in shift in dicator
a) Displays N even when directional lever is at F
b) Displays N even when directional lever is at R
c) Does not display N even when directional lever is at N
d) Does not display 1st even when speed control lever is at 1st
e) Does not display 2nd even when speed control lever is at 2nd
f) Does not display 3rd even when speed control lever is at 3rd
g) Does not display 4th even when speed control lever is at 4th
M- 5 High beam display does not light up
M- 6 Turn signal display does not light up
a) L.H. turn signal display does not light up
b) R.H. turn signal display does not light up
M- 7 Abnormality in parking lamp display
a) Parking lamp display does not light up
b) Parking lamp display stays lighted up
M- 8 Abnormality in preheating display
a) Preheating display does not light up
b) Preheating display stays lighted up
M- 9 Night lighting of monitor does not light up
M-10 Abnormality in front working lamp
a) Neither monitor display nor front working lamp light up
b) Working lamp lights up but monitor display does not light up
c) Monitor display lights up but working lamp does not light up
M-11 Abnormality in rear working lamp
a) Neither monitor display nor rear working lamp light up
b) Working lamp lights up but monitor display does not light up
c) Monitor display lights up but working lamp does not light up
M-12 Abnormality in transmission cut-off
a) When transmission cut-off switch is pressed, cut-of function is not switched and display does not change
b) When transmission cut-off switch is turned OFF, cut-off function is always actuated
c) Transmission cut-off switch is turned ON, but cut-off function is not actuated
M-13 Abnormality in parking brake dragging warning
a) When parking brake is applied, buzzer sounds intermittently and caution lamp flashes even when directional lever is at N
b) When parking brake is applied, buzzer does not sound and caution lamp does not light up even when directional lever is at position other than N
M-14 When parking brake dragging warning is given, buzzer and caution lamp are actuated continuously, or they are not actuated
a) Actuated continuously
b) Not actuated
M-15 Abnormality in buzzer
a) Buzzer does not sound for 3 seconds during self-check when starting switch is turned ON
b) Buzzer always sounds
M-16 Condition of monitor switches is not stored in memory
M-17 Abnormality in emergency steering display
a) Emergency steering display does not flash
b) Emergency steering display stays flashed
TROUBLESHOOTING OF MAINTENANCE MONITOR SYSTEM (K MODE)
ELECTRICAL CIRCUIT DIAGRAM FOR MAINTENANCE MONITOR
K- 1 When starting switch is turned ON, all display on maintenance monitor do not light up for 3 seconds
Maintenance monitor does not work
a) No lamps on maintenance monitor light up
b) Some lamps do not light up
K- 2 When starting switch is turned ON, ail lamps on maintenance monitor light up but do not go out even after 3 seconds
K- 3 When engine is started immediately after starting switch is turned ON within 3 seconds, no lamps on maintenance monitor go out
K- 4 When engine is stopped and starting switch is turned ON, CHECK item display flashes
a) Engine oil level display flashes
b) Engine water level display flashes
K- 5 When engine is stopped and starting switch is turned ON, CAUTION item display flashes
a) Engine oil pressure display flashes
b) Battery charge level display flashes
c) Brake oil pressure display flashes
d) Air cleaner clogged display flashes
K- 6 CAUTION item display is flashing, but caution buzzer does not sound
K- 7 No monitor display lights up, but caution buzzer sounds
K- 8 CAUTION item display is flashing, but central CHECK lamp or central CAUTION lamp does not flash
a) CHECK lamp
b) CAUTION lamp
K- 9 No maintenance monitor display lights up, but central CHECK lamp or central CAUTION lamp lights up
a) CHECK lamp
b) CAUTION lamp
K-10 Only night lighting of monitor does not light up when lamp switch is turned ON
K-11 Night lighting of monitor lights up even when lamp switch is OFF
K-12 Service meter does not work
K-13 Service meter is running even when engine is stopped
K-14 Abnormality in gauges
a) Abnormality in fuel gauge
b) Abnormality in engine water temperature gauge
c) Abnormality in torque converter oil temperature gauge
TROUBLESHOOTING OF ELECTRICAL SYSTEM (E MODE)
ELECTRICAL CIRCUIT DIAGRAM FOR POWER SUPPLY, ENGINE STARTING, ENGINE STOPPING, APS SYSTEM
ELECTRICAL CIRCUIT DIAGRAM FOR TRANSMISSION AND PARKING BRAKE
ELECTRICAL CIRCUIT DIAGRAM FOR LAMP AND HORN
E-1 Engine does not start
a) Starting motor does not turn
b) Starting motor turns
E-2 Engine does not stop
E-3 Engine stops when machine is traveling
E-4 Abnormality in APS system
b) When preheating switch is turned AUTO and engine water temperature is below 20℃, preheating lamp flashes, but pilot LED on APS controller shows normal
c) After preheating, fuel is not injected from APS nozzle when starting switch is turned START, but pilot LED on APS controller shows normal
d) LED 1 of pilot LED on APS controller shows abnormal
e) LED 2 of pilot LED on APS controller shows abnormal
f) LED 3 of pilot LED on APS controller shows abnormal
g) LED 4 of pilot LED on APS controller shows abnormal
h) LED 5 of pilot LED on APS controller shows abnormal
i) LED 6 of pilot LED on APS controller shows abnormal
j) When preheating switch is OFF, preheating lamp lights up
a) When preheating switch is turned AUTO, preheating lamp does not light up, but no pilot LED on APS controller lights up
E-5 Parking brake does not have effect
a) Parking brake has no effect when parking brake switch is turned ON
b) Parking brake has no effect and does not work as emergency brake when parking brake pressure drops
E-6 Parking brake is applied when machine is traveling
E-7 Parking brake is released when starting switch is turned ON
E-8 Transmission does not change to neutral when parking brake is applied, but parking brake works normally
E-9 Transmission does not work properly
a) Abnormality in parking brake circuit, transmission cut-off switch circuit or neutralizer relay circuit
b) No continuity in travel FORWARD solenoid circuit
c) No continuity in travel REVERSE solenoid circuit
d) Short circuit to chassis ground in directional solenoid circuit
e) Abnormality in shift solenoid circuit
f) Short circuit to chassis around in shift solenoid circuit
E-10 Kick-down switch does not work
E-11 Kick-down works only when kick-down switch is being turned ON
E-12 Kick-down always works
E-13 Kick-down switch works even when traveling FORWARD in 2nd
E-14 Power window does not work
a) Power window does not rise
b) Power window does not lower
E-15 Abnormality in front working lamp
E-16 Abnormality in rear working lamp
E-17 Abnormality in transmission cut-off
E-18 Abnormality in parking brake dragging warning
E-19 Abnormality in buzzer
TROUBLESHOOTING OF HYDRAULIC AND MECHANICAL SYSTEM (H MODE)
POWER TRAIN
H- 1 Machine does not start
H- 2 Travel speed is slow, or lacks power in all speed ranges
H- 3 Excessive time lag when starting machine or shifting gear
H- 4 Torque converter oil temperature is high
H- 5 Steering wheel does not turn
H- 6 Turning, response of steering is poor
H- 7 Steering is heavy
H- 8 Steering wheel shakes or jerks
H- 9 Turning radius is different between left and right at maximum steering
BRAKE SYSTEM
H-10 Wheel brakes do not work or braking effect is poor
H-11 Wheel brakes are not released or brakes drag
H-12 Parking brake does not work or braking effect is poor
H-13 Parking brake is not released or brake drags (including emergency release system)
WORK EQUIPMENT
H-14 Blade does not move
H-15 Blade is slow or blade lacks power
H-16 Blade cannot be set to FLOAT or cannot be released from FLOAT
H-17 Blade drops momentarily when control lever is operated from HOLD to RAISE
H-18 Excessive hydraulic drift of blade
30 DISASSEMBLY AND ASSEMBLY
METHOD OF USING MANUAL
PRECAUTIONS WHEN CARRYING OUT OPERATION
SPECIAL TOOL LIST
SKETCHES OF SPECIAL TOOLS
STARTING MOTOR
Removal and Installation
ALTERNATOR
Removal and Installation
ENGINE OIL COOLER
Removal and Installation
FUEL INJECTION PUMP
Removal and Installation
WATER PUMP
Removal and Installation
NOZZLE HOLDER
Removal and Installation
TURBOCHARGER
Removal
Installation
ENGINE FRONT SEAL
Replacement
ENGINE REAR SEAL
Replacement
CYLINDER HEAD
Removal
Installation
THERMOSTAT
Removal and Installation
AFTERCOOLER CORE
Removal
Installation
RADIATOR
Removal
Installation
ENGINE AND TORQUE CONVERTER ASSEMBLY
Removal
Installation
TORQUE CONVERTER ASSEMBLY
Removal
Installation
Disassembly
Assembly
TRANSMISSION
Removal
Installation
Disassembly
Assembly
TRANSFER ASSEMBLY
Disassembly
Assembly
CENTER SUPPORT
Removal and Installation
Disassembly
Assembly
DRIVE SHAFT
Disassembly
Assembly
FRONT AXLE
Removal
Installation
FRONT DIFFERENTIAL
Removal
Installation
REAR AXLE
Removal
Installation
REAR DIFFERENTIAL
Removal
Installation
DIFFERENTIAL GEAR ASSEMBLY
Disassembly
Assembly
NON-SPIN DIFFERENTIAL ASSEMBLY
Disassembly
Assembly
FINAL DRIVE
Removal
Assembly
ORBIT-ROLL
Removal and Installation
STEERING CYLINDER
Removal
Installation
Disassembly
Assembly
STEERING VALVE
Removal
Installation
BRAKE VALVE
Removal and Installation
BRAKE VALVE (R.H.)
Disassembly
Assembly
BRAKE VALVE (L.H.)
Disassembly
Assembly
SLACK ADJUSTER
Removal and Installation
Disassembly
Assembly
BRAKE
Removal and Installation
Disassembly
Assembly
HYDRAULIC PUMP ASSEMBLY
Removal
Installation
HYDRAULIC TANK
Removal
Installation
HYDRAULIC FILTER
Removal and Installation
PCC VALVE
Removal and Installation
Disassembly and Assembly
WORK EQUIPMENT VALVE
Removal
Installation
LIFT CYLINDER ASSEMBLY
Removal
Installation
CENTER HINGE PIN
Removal
Installation
WORK EQUIPMENT ASSEMBLY
Removal and Installation
BULKHEAD
Removal
Installation
FLOOR FRAME
Removal
Installation
COUNTERWEIGHT
Removal and Installation
FUEL TANK
Removal
Installation
CAB
Removal
Installation
STOP VALVE
Removal and Installation
ACCUMULATOR
Removal and Installation
ACCUMULATOR CHARGE VALVE
Removal and Installation
PARKING BRAKE SOLENOID VALVE
Removal and Installation
PARKING BRAKE
Removal and Installation
PARKING BRAKE CALIPERS
Disassembly
Assembly
PARKING BRAKE PAD
Removal and Installation
PEAR STEEL WHEELS
Removal and Installation
AIR CONDITIONER COMPRESSOR
Removal and Installation
AIR CONDITIONER CONDENSER
Removal and Installation
RECEIVER TANK
Removal and Installation
AIR CONDITIONER UNIT
Removal
Installation
MONITOR
Removal and Installation
40 MAINTENANCE STANDARD
ENGINE MOUNT
TRANSMISSION MOUNT
TORQUE CONVERTER
TORQUE CONVERTER REGULATOR VALVE
TRANSMISSION
TRANSMISSION SOLENOID VALVE
TRANSMISSION CONTROL VALVE
TRANSFER
DRIVE SHAFT
CENTER SUPPORT
DIFFERENTIAL
FINAL DRIVE
AXLE MOUNT
CENTER HINGE PIN
STEERING COLUMN
STEERING VALVE
STEERING CYLINDER MOUNT
BRAKE VALVE
SLACK ADJUSTER
BRAKE
PARKING BRAKE
PPC VALVE
WORK EQUIPMENT VALVE
HYDRAULIC CYLINDER
WORK EQUIPMENT LINKAGE
ROPS CANOPY
90 OTHERS
ELECTRIC CIRCUIT DIAGRAM
Electric circuit diagram (1/5)
Electric circuit diagram (2/5)
Electric circuit diagram (3/5)
Electric circuit diagram (4/5)
Electric circuit diagram (5/5)
-