---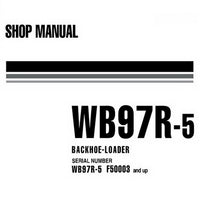 This complete service repair workshop manual PDF download for the Komatsu WB97R-5 Backhoe Loader (SN: F50003 and up) has easy to read text sections with top quality diagrams, pictures and illustrations. The step by step instructions show you how to fault find or complete any repair or overhaul, correctly and efficiently, saving time and avoiding costly mistakes. All specifications and tolerances are listed. Functions of components and systems are also explained.
APPLICABLE MODELS :
Komatsu WB97R-5 Backhoe Loader
Serial Numbers : F50003 and up
TABLE OF CONTENTS :
- STRUCTURE AND FUNCTION
- TESTING AND ADJUSTMENTS
- REMOVAL AND INSTALLATION
- STANDARD MAINTENANCE
- VARIE
MANUAL SPECIFICATION :
File Format : PDF
Language : English
Bookmarked : Yes
Searchable : Yes
Printable : Yes
Product Code : WEBM006300
Total Pages : 588
This is the Complete Factory Service Repair Workshop Manual for the Komatsu WB97R-2 Backhoe Loader
 (SN: F50003 and up)
, has easy to read text sections with top quality diagrams and instructions, contains deep information about maintaining, assembly, disassembly and servicing.
This manual has been prepared as an aid to improve the quality of repairs by giving the serviceman an accurate understanding of the product and by showing him the correct way to perform repairs and make judgements. Make sure you understand the contents of this manual and use it to full effect at every opportunity.
This service repair workshop manual PDF download contains specs, diagrams, actual real photo illustrations, and schemes. In addition to space savings, nice thing about having completly searcheble PDF files instead of a hard-printed manual is that you can use the Search feature in your PDF reader software (Adobe Acrobat) to find just what your looking for and just print out the exact pages you need or all manual easily. This is the same Repair Service manual your local dealer will use when doing a repair.
Instant Download means there is NO shipping costs or waiting for a CD or paper manual to arrive in the mail! You will receive this manual TODAY via Instant Download on completion of payment via our secure payment processor. We accept ALL major credit/debit cards/paypal.
-
WEBM006300_WB97R-5
CONTENTS
REVISED PAGES
SAFETY
FOREWORD
HOW TO READ THE SHOP MANUAL
HOISTING INSTRUCTIONS
STANDARD TIGHTENING TORQUE
COATING MATERIALS
ELECTRIC
WEIGHT TABLE
TABLE OF OIL AND COOLANT QUANTITIES
CONVERSION TABLE
10 STRUCTURE AND FUNCTION
POWER TRAIN
TRANSMISSION (4WD)
TRANSMISSION
CONTROL VALVE BLOCK
DRIVE SHAFTS
FRONT AXLE
REAR AXLE
HYDRAULIC CIRCUIT
HYDRAULIC PUMP
1. MAIN PUMP
2. DELIVERY CONTROL VALVE
8-SPOOL CONTROL VALVE
10-SPOOL CONTROL VALVE
CLSS
1. DESCRIPTION
2. OPERATING PRINCIPLES
3. OPERATION FOR EACH CIRCUIT AND VALVE
STEERING UNIT
PPC VALVES
SHOVEL PPC VALVE (STANDARD)
SHOVEL PPC VALVE (FLOAT + RETURN TO DIG)
OUTRIGGERS PPC VALVE
BACKHOE LH PPC VALVE
BACKHOE RH PPC VALVE
SOLENOID VALVE GROUP (EV1)
BACKHOE VERSION WITHOUT 4 IN 1 BUCKET
BACKHOE VERSION WITH 4 IN 1 BUCKET
SAFETY VALVES
SHOVEL RAISE
SHOVEL DUMP
BOOM
ARM
SHOVEL CYLINDERS
RAISING CYLINDER
DUMPING CYLINDER
4 IN 1 BUCKET
BACKHOE CYLINDERS
BOOM CYLINDER
ARM
BUCKET CYLINDER
OUTRIGGER CYLINDER
BOOM SWING CYLINDER
JIG ARM CYLINDER
AIR-CONDITIONING UNIT
OPERATION OF THE AIR CONDITIONING UNIT
FUSE AND RELAY CENTRE
DRIVER SEAT WIRING
SWITCH PANEL WIRING
FRONT DASH WIRING
LATERAL DASH WIRING
ROOF WIRING
ENGINE WIRING
SPEED SELECTOR WIRING
BACKHOE WIRING
JIG ARM WIRING
WIRING DIAGRAM (STANDARD VERSION) (see also Group 90)
20 TESTING AND ADJUSTMENTS
NORMAL OR STANDARD TECHNICAL DATA
SPECIAL TOOLS
ADJUSTING VALVE CLEARANCE
ENGINE SPEED TESTS
TENSIONING THE AIR-CONDITIONING COMPRESSOR BELT
BLEEDING AIR FROM CIRCUITS - ELIMINATING RESIDUAL PRESSURE
ADJUSTING ACCELERATOR PEDAL TRAVEL AND ACCELERATOR LEVER
ADJUSTING BRAKE PEDAL SLACK/ALIGNMENT
BRAKING SYSTEM CHECKS
PARKING BRAKE ADJUSTMENT
CHECKING AND SETTING PRESSURE IN THE ATTACHMENTS HYDRAULIC CIRCUIT
CHECKING THE SETTING OF MAIN RELIEF AND SECONDARY VALVES
SETTING THE MAIN RELIEF VALVES AND THE REDUCING VALVES
CHECKING AND ADJUSTING THE LS DIFFERENTIAL PRESSURE - ADJUSTING THE LS VALVE
CHECKING AND ADJUSTING SERVOCONTROLS SUPPLY PRESSURE
ADJUSTING THE PC VALVE
TESTING AND SETTING STEERING CONTROL SYSTEM PRESSURE
CHECKING FOR LEAKS IN THE STEERING CYLINDERS
TESTING PRESSURES IN THE POWER TRAIN GROUP
TESTING THE CORRECT FUNCTIONING OF THE POWER TRAINCLUTCHES
ANALYSIS OF CAUSES HYDRAULIC DRIFT
FRONT EQUIPMENT
BACKHOE
TESTING THE AIR-CONDITIONING UNIT
EMPTYING THE AIR-CONDITIONING UNIT
TROUBLESHOOTING
FRONT AXLE TROUBLESHOOTING
FRONT AXLE CHECKING AND TROUBLESHOOTING
REAR AXLE TROUBLESHOOTING
REAR AXLE CHECKING AND TROUBLESHOOTING
TRANSMISSION TROUBLESHOOTING
30 REMOVAL AND INSTALLATION
HOW TO READ THE MANUAL
PRECAUTIONS TO BE TAKEN WHILE WORKING
SPECIAL TOOLS
ENGINE HOOD
Removal
Installation
FRONT GUARD
Removal
Installation
RADIATOR GROUP
Removal
Installation
CONDENSER (For machines equipped with an air-conditioning unit)
Removal
Installation
MUFFLER
Removal
Installation
AIR FILTER
Removal
Installation
TURBOCHARGER
Removal
Installation
AIR-CONDITIONING UNIT COMPRESSOR
Removal
Installation
AIR-CONDITIONING UNIT COMPRESSOR BELT
Removal
Installation
EXHAUST PIPE
Removal
Installation
FAN AND HEATING GROUP
Removal
Installation
BATTERY
Removal
Installation
FUEL TANK
Removal
Installation
STEERING WHEEL AND TRANSMISSION-REVERSE, DIRECTION INDICATOR AND HEADLIGHT DIPPER BEAM CONTROL GROUP
Removal
Installation
WORKING BRAKE PUMP GROUP
Removal
Installation
STEERING UNIT
Removal
Installation
CAB
Removal
Installation
HYDRAULIC OIL TANK
Removal
Installation
PISTON PUMP
Removal
Installation
TRANSMISSION
Removal
Installation
Disassembly and assembly
CONVERTOR
Removal
Installation
ENGINE
Removal
Installation
CONTROL VALVE
Removal
Installation
FRONT AXLE
Removal
Installation
Disassembly and assembly
REAR AXLE
Removal
Installation
Disassembly and assembly
SHOVEL PPC VALVE
Removal
Installation
SHOVEL LIFT CYLINDERS
Removal
Installation
SHOVEL DUMP CYLINDERS
Removal
Installation
SHOVEL
Removal
Installation
FRONT WORKING EQUIPMENT
Removal
Installation
BACKHOE PPC VALVES
Removal
Installation
PPC VALVE SUPPORT RELEASE CABLES
Removal
Installation and adjusting
PPC VALVE SUPPORT RETURN GAS SPRING
Removal
Installation
SOLENOID VALVE GROUP (servocontrol and optional attachment)
Removal
Installation
BACKHOE BOOM CYLINDER
Removal
Installation
ARM CYLINDER
Removal
Installation
JIG ARM CYLINDER
Removal
Installation
OUTRIGGER CYLINDER
Removal
Installation
BACKHOE SWING CYLINDERS
Removal
Installation
BACKHOE BUCKET CYLINDER
Removal
Installation
BACKHOE BOOM SAFETY CYLINDER
Removal
Installation
CYLINDER
SHOVEL ARM, SHOVEL, BOOM, ARM, BUCKET, OUTRIGGERS
Disassembly
Assembly
BACKHOE SWING CYLINDERS
Disassembly
Assembly
BACKHOE WORKING EQUIPMENT
Removal
Installation
BACKHOE BUCKET
Removal
Installation
BACKHOE BOOM CYLINDER
Removal
Installation
ARM
Removal
Installation
JIG ARM
Removal
Installation
2nd ARM
Removal
Installation
2nd ARM GUIDES
Removal
Installation
BACKHOE SWING BRACKET
Removal
Installation
COMPLETE BACKHOE BACKFRAME
Removal
Installation
BACKFRAME LOCK PISTONS
Removal
Installation
40 STANDARD MAINTENANCE
TRANSMISSION
FRONT AXLE
REAR AXLE
HYDRAULIC PUMP
CONTROL VALVE
8-SPOOL VERSION
10-SPOOL VERSION
PPC VALVES
SHOVEL CONTROL
SHOVEL CYLINDERS
DUMP CYLINDER
RAISE CYLINDER
4 IN 1 BUCKET
BACKHOE CYLINDERS
BOOM
ARM
BUCKET
BOOM SWING
OUTRIGGERS
JIG ARM
FRONT WORKING EQUIPMENT
SWING BRACKET
BACKHOE WORKING EQUIPMENT
90 VARIE
ELECTRICAL DIAGRAM (STANDARD VERSION)
-