---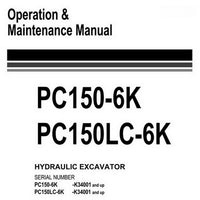 This manual PDF download describes procedures for operation, handling, lubrication, maintenance, checking, and adjustment for the Komatsu PC150-6K, PC150LC-6K Hydraulic Excavator (
SN: K34001 and up)
. It will help the operator or anyone realize peak performance through effective, economical and safe machine operation and maintenance.
APPLICABLE MODELS :
Komatsu PC150-6K - SN: K34001 and up
Komatsu PC150LC-6K - SN: K34001 and up
TABLE OF CONTENTS :
- SAFETY
- OPERATION
- MAINTENANCE
- SPECIFICATIONS
- OPTIONS, ATTACHMENTS
MANUAL SPECIFICATION :
File Format : PDF
Language : English
Printable : Yes
Searchable : Yes
Bookmarked : Yes
Product Code : UEAM000403
Total Pages : 266
This manual provides rules and guidelines which will help you use this machine safely and effectively. The precautions in this manual must be followed at all times when performing operation and maintenance.
Instant Download means there is NO shipping costs or waiting for a CD or paper manual to arrive in the mail! You will receive this manual TODAY via Instant Download on completion of payment via our secure payment processor. We accept ALL major credit/debit cards/paypal.
This page sometime can be found use following keyword : service manual, repair manual, workshop manual, technical manual, owner manual, operating manual, maintenance manual, parts manual. Please make sure you read and understand the title of this manual before decided to buy.
-
COVER
FOREWORD
SAFETY INFORMATION
SAFETY MESSAGES
VIBRATION
INTRODUCTION
INTENDED USE
FEATURES
BREAKING IN YOUR NEW MACHINE
LOCATION OF PLATES, TABLES TO ENTER SERIAL NO. AND DISTRIBUTOR
MACHINE SERIAL NO. PLATE POSITION
ENGINE SERIAL NO. PLATE POSITION
TABLE TO ENTER SERIAL NO. AND DISTRIBUTOR
MACHINE SERIAL PLATE.
SAFETY
GENERAL PRECAUTIONS
PRECAUTIONS DURING OPERATION
BEFORE STARTING ENGINE
OPERATING MACHINE
TRANSPORTATION
BATTERY
TOWING
BUCKET WITH HOOK
GENERAL PRECAUTIONS
PRECAUTIONS FOR LIFTING OPERATION
PRECAUTIONS FOR MAINTENANCE
BEFORE CARRYING OUT MAINTENANCE
DURING MAINTENANCE
POSITION FOR ATTACHING SAFETY LABELS
POSITION FOR ATTACHING SAFETY LABELS
Memo
OPERATION
GENERAL VIEW
GENERAL VIEW OF MACHINE
GENERAL VIEW OF CONTROLS AND GAUGES
EXPLANATION OF COMPONENTS
MACHINE MONITOR
A: BASIC CHECK ITEMS
B: CAUTION ITEMS
C: EMERGENCY STOP ITEMS
D: METER DISPLAY PORTION
METERS
E: SWITCHES
SWITCHES
CONTROL LEVERS, PEDALS
CEILING WINDOW
CLEAR RAIN VISOR
PULL DOWN SUN VISOR
CUP HOLDER
FRONT WINDOW
DOOR LOCK
CAP, COVER WITH LOCK
LUGGAGE TRAY
ASHTRAY
HEATER
VIEW OF CONTROL PANEL
AIR CONDITIONER (option)
GENERAL LOCATIONS ON CONTROL PANEL
AIR CONDITIONER SWITCH
OFF SWITCH
DEFROSTER SELECTOR LEVER
PRECAUTIONS WHEN USING AIR CONDITIONER
CHECK, MAINTAIN MACHINE EQUIPPED WITH AIR CONDITIONER
CAB RADIO (option)
FUSE
Fuse capacity and name of circuit
FUSIBLE LINK
CONTROLLERS
TOOL BOX
REFUELLING PUMP
HANDLING THE ACCUMULATOR
METHOD FOR RELEASING PRESSURE IN CONTROL CIRCUIT OF MACHINES EQUIPPED WITH ACCUMULATOR
OPERATION
CHECK BEFORE STARTING ENGINE
WALK-AROUND CHECK
CHECK BEFORE STARTING
ADJUSTMENT BEFORE OPERATION OPERATOR'S SEAT
USING THE SEAT BELT
OPERATIONS AND CHECKS BEFORE STARTING ENGINE
STARTING ENGINE
NORMAL STARTING
STARTING IN COLD WEATHER
OPERATIONS AND CHECKS AFTER STARTING ENGINE
WHEN NORMAL
IN COLD AREAS (AUTOMATIC WARMING-UP OPERATION)
MOVING MACHINE OFF
MOVING MACHINE FORWARD
MOVING MACHINE BACKWARD
STEERING MACHINE
STEERING (changing direction)
STOPPING MACHINE
SWINGING
OPERATION OF WORK EQUIPMENT
HANDLING ACTIVE MODE
WORKING MODE SELECTION
PROHIBITIONS FOR OPERATION
PRECAUTIONS FOR OPERATION
PRECAUTIONS WHEN TRAVELLING UP OR DOWN HILLS
HOW TO ESCAPE FROM MUD
WHEN ONE SIDE IS STUCK
WHEN BOTH SIDES ARE STUCK
WORK POSSIBLE USING HYDRAULIC EXCAVATOR
BACKHOE WORK
SHOVEL WORK
DITCHING WORK
LOADING WORK
REPLACEMENT AND INVERSION OF BUCKET
REPLACEMENT
INVERSION
PARKING THE MACHINE
CHECK AFTER FINISHING WORK
STOPPING ENGINE
CHECK AFTER STOPPING ENGINE
LOCKING
OVERLOAD WARNING DEVICE
TRANSPORTATION
LOADING, UNLOADING WORK
PRECAUTIONS FOR LOADING
PRECAUTIONS FOR TRANSPORTATION
METHOD OF LIFTING MACHINE
COLD WEATHER OPERATION
PRECAUTIONS FOR LOW TEMPERATURE
FUEL AND LUBRICANTS
COOLANT
BATTERY
PRECAUTIONS AFTER COMPLETION OF WORK
AFTER COLD WEATHER
LONG-TERM STORAGE
BEFORE STORAGE
DURING STORAGE
AFTER STORAGE
STARTING MACHINE AFTER LONG-TERM STORAGE
TROUBLESHOOTING
PHENOMENA THAT ARE NOT FAILURES
METHOD OF TOWING MACHINE
USING METHOD FOR LIGHT-WEIGHT TOWING HOLE
PRECAUTIONS ON PARTICULAR JOBSITES
IF BATTERY IS DISCHARGED
STARTING ENGINE WITH BOOSTER CABLE
OTHER TROUBLE
ELECTRICAL SYSTEM
CHASSIS
ENGINE
ENGINE (cont'd)
ELECTRONIC CONTROL SYSTEM
MAINTENANCE
GUIDES TO MAINTENANCE
OUTLINES OF SERVICE
OUTLINE OF OIL, FUEL, COOLANT
OIL
FUEL
COOLANT
GREASE
STORING OIL AND FUEL
FILTERS
EXPLANATION OF LUBRICATION CHART DECAL
OUTLINE OF ELECTRICAL SYSTEM
OUTLINE OF HYDRAULIC SYSTEM
WEAR PARTS LIST
USE OF FUEL, COOLANT AND LUBRICANTS ACCORDING TO AMBIENT TEMPERATURE
PROPER SELECTION OF FUEL, COOLANT AND LUBRICANTS
STANDARD TIGHTENING TORQUES FOR BOLTS AND NUTS
LIST OF NECESSARY TOOLS
TORQUE LIST
PERIODIC REPLACEMENT OF SAFETY CRITICAL PARTS
MAINTENANCE SCHEDULE CHART
MAINTENANCE SCHEDULE CHART
MAINTENANCE WHEN USING HYDRAULIC BREAKER
SERVICE PROCEDURE
INITIAL 250 HOURS SERVICE
WHEN REQUIRED
CHECK, CLEAN AND REPLACE AIR CLEANER ELEMENT
CLEAN INSIDE OF COOLING SYSTEM
CHECKING COOLANT LEVEL
DRAINING THE SYSTEM
CLEANING THE SYSTEM
FILLING THE SYSTEM
REFILLING AN OVERHEATED SYSTEM
CLEANING THE RADIATOR
CLEANING THE RADIATOR PRE SCREEN
THERMOSTATS
FAN
CHECK AND TIGHTEN TRACK SHOE BOLTS
CHECK and adjust TRACK TENSION
CHECK ELECTRICAL INTAKE AIR HEATER
CHECK ALTERNATOR
CHECK START MOTOR
REPLACE BUCKET SIDE CUTTERS
REPLACE BUCKET TEETH
ADJUST BUCKET CLEARANCE
CHECK WINDOW WASHER FLUID LEVEL, ADD FLUID
CHECK, MAINTAIN AIR CONDITIONER
CLEAN INLINE FILTER
CHECK BEFORE STARTING
CHECK COOLANT LEVEL, ADD COOLANT
CHECK OIL LEVEL IN ENGINE OIL PAN, ADD OIL
CHECK FUEL LEVEL, ADD FUEL
CHECK OIL LEVEL IN HYDRAULIC TANK, ADD OIL
CHECK AIR CLEANER FOR CLOGGING
CHECK ELECTRIC WIRINGS
CHECK FUNCTION OF HORN
CHECK FOR WATER IN FUEL SEDIMENTOR
CHECK FOR WATER IN PRIMARY FUEL FILTER, DRAIN WATER
EVERY 100 HOURS SERVICE
LUBRICATING
CHECK OIL LEVEL IN SWING MACHINERY CASE, ADD OIL
DRAIN WATER AND SEDIMENT FROM FUEL TANK
CLEAN FRESH AIR INTAKE FILTER
EVERY 250 HOURS SERVICE
CHECK OIL LEVEL IN FINAL DRIVE CASE, ADD OIL
CHECK LEVEL OF BATTERY ELECTROLYTE
LUBRICATE SWING CIRCLE (2 POINTS)
BELTS, GENERAL
CHECK ALTERNATOR, FAN AND WATER PUMP BELT TENSION, ADJUST CHECKING TENSION
CHECK AIR CONDITIONER COMPRESSOR BELT TENSION, ADJUST
EVERY 500 HOURS SERVICE
REPLACE FUEL FILTER CARTRIDGE
CHECK SWING PINION GREASE LEVEL, ADD GREASE
CHANGE OIL IN ENGINE OIL PAN, REPLACE ENGINE OIL FILTER CARTRIDGE
CLEAN AND INSPECT RADIATOR FINS, OIL COOLER FINS AND CONDENSER FINS (ONLY FOR MACHINES EQUIPPED W...
REPLACE HYDRAULIC FILTER ELEMENT
EVERY 1000 HOURS SERVICE
CHANGE OIL IN SWING MACHINERY CASE
CHECK ALL TIGHTENING PARTS OF TURBOCHARGER
CHECK PLAY OF TURBOCHARGER ROTOR
CHECK AND ADJUST VALVE CLEARANCE
CHECK FAN BELT TENSIONER BEARING BELT AND FAN HUB.
CHECK FAN BELT TENSION
EVERY 2000 HOURS SERVICE
CHANGE OIL IN FINAL DRIVE CASE
CLEAN HYDRAULIC TANK STRAINER
CLEAN, CHECK TURBOCHARGER
CHECK ALTERNATOR, STARTING MOTOR
CHECK ENGINE VALVE CLEARANCE, ADJUST
CHECK VIBRATION DAMPER
CHANGE ANTI FREEZE
EVERY 4000 HOURS SERVICE
CHECK WATER PUMP
EVERY 5000 HOURS SERVICE
CHANGE OIL IN HYDRAULIC TANK
Memo
SPECIFICATIONS
SPECIFICATIONS
PC150-6K, PC150LC-6K
LIFTING CAPACITY CHART
OPTIONS, ATTACHMENTS
PRECAUTIONS RELATED TO SAFETY
PRECAUTIONS WHEN INSTALLING ATTACHMENTS
HANDLING BUCKET WITH HOOK
CHECKING FOR DAMAGE TO BUCKET WITH HOOK
PROHIBITED OPERATIONS
PRECAUTIONS DURING OPERATIONS
MACHINES READY FOR ATTACHMENTS
1. STOP VALVE
3. CONTROL PEDAL FOR ATTACHMENT
4. ACCUMULATOR
5. HYDRAULIC CIRCUIT
Change-over hydraulic circuit
CONNECTING HYDRAULIC CIRCUIT
ATTACHMENT MOUNTING/DISMOUNTING PROCEDURE
OPERATION
LONG TERM STORAGE
SPECIFICATIONS
INTRODUCTION OF ATTACHMENTS
SPECIFICATION, USE
ATTACHMENT INSTALLATION COMBINATION TABLE
SELECTION OF TRACK SHOES
SELECTION OF BUCKET TEETH
HANDLING TRAPEZOIDAL BUCKET
HANDLING THE CLAMSHELL BUCKET
EXTENDING MACHINE SERVICE LIFE
HYDRAULIC BREAKER
POWER RIPPER
MAIN FIELDS OF APPLICATIONS
FORK GRAB
GRAPPLE BUCKET
SCRAP GRAPPLE
CRUSHER & SMASHER
HYDRAULIC PILE DRIVER
HYDRAULIC EXCAVATOR WITH MULTIPURPOSE CRANE
Memo
-