---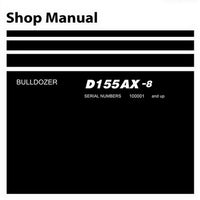 This complete service repair workshop manual PDF download for the Komatsu D155AX-8 Bulldozer (SN: 100001 and up) has easy to read text sections with top quality diagrams, pictures and illustrations. The step by step instructions show you how to fault find or complete any repair or overhaul, correctly and efficiently, saving time and avoiding costly mistakes. All specifications and tolerances are listed. Functions of components and systems are also explained.


APPLICABLE MODELS :

Machine Model : D155AX-8
Serial Numbers : 100001 and up


TABLE OF CONTENTS :

00 INDEX AND FOREWORD
01 SPECIFICATIONS
10 STRUCTURE AND FUNCTION
20 STANDARD VALUE TABLE
30 TESTING AND ADJUSTING
40 TROUBLESHOOTING
50 DISASSEMBLY AND ASSEMBLY
60 MAINTENANCE STANDARD
80 APPENDIX
90 CIRCUIT DIAGRAMS


MANUAL SPECIFICATION :

File Format : PDF
Language : English
Printable : Yes
Searchable : Yes
Bookmarked : Yes
Product Code : SEN06497-03
Total Pages : 3045


This service repair workshop manual PDF download has been prepared as an aid to improve the quality of repairs by giving the serviceman an accurate understanding of the product and by showing him the correct way to perform repairs and make judgements. Make sure you understand the contents of this manual and use it to full effect at every opportunity. This is a must for the Do-It-Yourselfer! Saving Yourself $$$$$$ In Service Repair And Maintenance Costs !!!!

This service repair workshop manual PDF download contains specs, diagrams, actual real photo illustrations, and schemes. In addition to space savings, nice thing about having completly searcheble PDF files instead of a hard-printed manual is that you can use the Search feature in your PDF reader software (Adobe Acrobat) to find just what your looking for and just print out the exact pages you need or all manual easily. This is the same Repair Service manual your local dealer will use when doing a repair.

Instant Download means there is NO shipping costs or waiting for a CD or paper manual to arrive in the mail! You will receive this manual TODAY via Instant Download on completion of payment via our secure payment processor. We accept ALL major credit/debit cards/paypal.

-

TABLE OF CONTENTS :
00 INDEX AND FOREWORD
This section describes the index, foreword, safety, and basic information.
01 SPECIFICATIONS
This section describes the specifications of the machine.
10 STRUCTURE AND FUNCTION
This section describes the structure and operation of each component by system. "Structure and function" is helpful in not only understanding the structure of each component but performing troubleshooting.
20 STANDARD VALUE TABLE
The standard values for new machine and failure criterion are described for testing and adjusting, and troubleshooting.
Use the standard values table to check the standard values for testing and adjusting, and judge troubles in troubleshooting.
30 TESTING AND ADJUSTING
This section describes measuring tools and measuring methods for testing and adjusting, as well as the adjusting method of each part. The standard values and repair limit for "Testing and adjusting" are described in "Standard value table".
40 TROUBLESHOOTING
Troubleshooting of failure part and its remedy method on the occurrence of the failure are described. Troubleshooting is sorted by failure mode.
50 DISASSEMBLY AND ASSEMBLY
This section describes the special tools, work procedures, and safety precautions necessary for removal, installation, disassembly, and assembly of the components and parts. In addition, tightening torque and quantity and
weight of the coating material, lubricants, and coolant necessary to these works are shown.
60 MAINTENANCE STANDARD
In this section, the maintenance standard value of each component is described. The maintenance standard shows the criteria and remedies for disassembly and assembly.
80 APPENDIX
The structure and function, testing and adjusting, and troubleshooting for all of the other components or equipment which cannot be separately classified are described together in the appendix.
90 CIRCUIT DIAGRAMS
This section describes hydraulic circuit diagrams and electrical circuit diagrams.


00 INDEX AND FOREWORD
INDEX
FOREWORD, SAFETY, BASIC INFORMATION
HOW TO READ THE SHOP MANUAL
SAFETY NOTICE FOR OPERATION
PRECAUTIONS TO PREVENT FIRE
ACTION IF FIRE OCCURS
PRECAUTIONS FOR DISPOSING OF WASTE MATERIALS
ACTIONS TAKEN TO MEET EXHAUST GAS REGULATIONS
PRECAUTIONS FOR AdBlue/DEF
GENERAL CHARACTER AND PRECAUTIONS FOR HANDLING
PRECAUTIONS FOR ADDING
PRECAUTIONS FOR STORING
PRECAUTIONS FOR FIRE HAZARD AND LEAKAGE
THE OTHER PRECAUTIONS
STORE AdBlue/DEF
PRECAUTIONS FOR HANDLING HYDRAULIC EQUIPMENT
PRECAUTIONS FOR DISCONNECTION AND CONNECTION OF PIPINGS
PRECAUTIONS FOR HANDLING ELECTRICAL EQUIPMENT
PRECAUTIONS FOR HANDLING FUEL SYSTEM EQUIPMENT
PRECAUTIONS FOR HANDLING INTAKE SYSTEM EQUIPMENT
PRACTICAL USE OF KOMTRAX
METHOD FOR DISCONNECTING AND CONNECTING PUSH-PULL TYPE COUPLER
METHOD FOR DISCONNECTING AND CONNECTING TYPE 1 PUSH-PULL TYPE COUPLER
METHOD FOR DISCONNECTING AND CONNECTING TYPE 2 PUSH-PULL TYPE COUPLER
METHOD FOR DISCONNECTING AND CONNECTING TYPE 3 PUSH-PULL TYPE COUPLER
PRECAUTIONS FOR DISCONNECTION AND CONNECTION OF CONNECTORS
METHOD FOR DISCONNECTING AND CONNECTING DEUTSCH CONNECTOR
METHOD FOR DISCONNECTING AND CONNECTING SLIDE LOCK TYPE CONNECTOR
METHOD FOR DISCONNECTING AND CONNECTING CONNECTOR WITH LOCK TO PULL
METHOD FOR DISCONNECTING AND CONNECTING CONNECTOR WITH LOCK TO PUSH
METHOD FOR DISCONNECTING AND CONNECTING CONNECTOR WITH HOUSING TO ROTATE
HOW TO READ ELECTRICAL WIRE CODE
EXPLANATION OF TERMS FOR MAINTENANCE STANDARD
LIST OF ABBREVIATION
STANDARD TIGHTENING TORQUE TABLE
CONVERSION TABLE

01 SPECIFICATION
CONTENTS
SPECIFICATIONS
SPECIFICATION DRAWING
SPECIFICATION DRAWING: D155AX-8
SPECIFICATIONS
SPECIFICATIONS: D155AX-8
WEIGHT TABLE
WEIGHT TABLE: D155AX-8
TABLE OF FUEL, COOLANT, AND LUBRICANTS
10 STRUCTURE AND FUNCTION
CONTENTS
UREA SCR SYSTEM
LAYOUT DRAWING OF UREA SCR SYSTEM
UREA SCR SYSTEM DIAGRAM
FUNCTION OF UREA SCR SYSTEM
FUNCTION OF AdBlue/DEF SYSTEM
INDUCEMENT STRATEGY
COMPONENT PARTS OF UREA SCR SYSTEM
AdBlue/DEF MIXING TUBE
SCR ASSEMBLY
AdBlue/DEF TANK
AdBlue/DEF PUMP
AdBlue/DEF INJECTOR
AdBlue/DEF HOSE
AdBlue/DEF TANK HEATING VALVE
BOOT-UP SYSTEM
SYSTEM OPERATING LAMP SYSTEM
SYSTEM OPERATING LAMP SYSTEM DIAGRAM
FUNCTION OF SYSTEM OPERATING LAMP
BATTERY DISCONNECT SWITCH
LAYOUT DRAWING OF BATTERY DISCONNECT SWITCH
FUNCTION OF BATTERY DISCONNECT SWITCH
ENGINE SYSTEM
LAYOUT DRAWING OF ENGINE RELATED PARTS
ENGINE CONTROL SYSTEM
LAYOUT OF ENGINE CONTROL SYSTEM
ENGINE CONTROL SYSTEM DIAGRAM
FUNCTION OF ENGINE CONTROL SYSTEM
AUTOMATIC IDLE STOP SYSTEM
SYSTEM OPERATING AUTOMATIC IDLE STOP SYSTEM DIAGRAM
FUNCTION OF AUTOMATIC IDLE STOP SYSTEM DIAGRAM
COMPONENT PARTS OF ENGINE SYSTEM
DAMPER
KVGT
EGR SYSTEM
EGR VALVE
EGR COOLER
KCCV SYSTEM
KCCV VENTILATOR
KDPF
COOLING SYSTEM
LAYOUT DRAWING OF COOLING SYSTEM
SPECIFICATIONS OF COOLING SYSTEM
COMPONENT PARTS OF COOLING SYSTEM
COOLING FAN PUMP
COOLING FAN MOTOR
HYDRAULIC OIL COOLER BYPASS VALVE
CONTROL SYSTEM
LAYOUT OF ELECTRICAL CONTROL SYSTEM
PALM COMMAND CONTROL SYSTEM
PALM COMMAND CONTROL SYSTEM DIAGRAM
MACHINE MONITOR SYSTEM
MACHINE MONITOR SYSTEM DIAGRAM
FUNCTION OF MACHINE MONITOR SYSTEM
KOMTRAX SYSTEM
KOMTRAX SYSTEM DIAGRAM
FUNCTION OF KOMTRAX SYSTEM
COMPONENT PARTS OF CONTROL SYSTEM
MACHINE MONITOR
KOMTRAX TERMINAL
POWER TRAIN CONTROLLER
WORK EQUIPMENT CONTROLLER
DECELERATOR PEDAL POTENTIOMETER
ENGINE CONTROLLER
FUEL FEED PUMP
FUEL FEED PUMP SWITCH
HYDRAULIC SYSTEM
LAYOUT DRAWING OF HYDRAULIC SYSTEM
CLSS
STRUCTURE OF CLSS
FUNCTION OF CLSS
COMPONENT PARTS OF HYDRAULIC SYSTEM
HYDRAULIC TANK
WORK EQUIPMENT AND HSS PUMP
LS VALVE
PC VALVE
PC-EPC VALVE
CONTROL VALVE
POWER TRAIN SYSTEM
LAYOUT OF POWER TRAIN SYSTEM
OPERATE POWER TRAIN SYSTEM
TRANSMISSION, STEERING, AND BRAKE CONTROL
LAYOUT OF TRANSMISSION, STEERING, AND BRAKE CONTROL SYSTEM PARTS
FUNCTION OF TRANSMISSION, STEERING, AND BRAKE CONTROL
HSS SYSTEM
HSS SYSTEM DIAGRAM
FUNCTION OF HSS SYSTEM
CENTRALIZED PRESSURE PICKUP PORT
LAYOUT OF CENTRALIZED PRESSURE PICKUP PORT
FUNCTION OF CENTRALIZED PRESSURE PICKUP PORT
COMPONENT PARTS OF POWER TRAIN SYSTEM
UNIVERSAL JOINT
POWER TRAIN MOUNT
TORQUE CONVERTER AND PTO
TORQUE CONVERTER CONTROL VALVE
LOCKUP CLUTCH ECMV
STATOR CLUTCH ECMV
TRANSMISSION
TRANSMISSION ECMV
MAIN RELIEF VALVE AND TORQUE CONVERTER RELIEF VALVE
TRANSMISSION LUBRICATION RELIEF VALVE
BEVEL GEAR SHAFT, HSS, AND BRAKE
FINAL DRIVE
SCAVENGING PUMP
STEERING LUBRICATION PUMP AND POWER TRAIN PUMP
HSS MOTOR
ELECTRIC LEVER
WORK EQUIPMENT SYSTEM
WORK EQUIPMENT CONTROL
LAYOUT OF WORK EQUIPMENT CONTROL
WORK EQUIPMENT CONTROL FUNCTION
LAYOUT OF DUAL TILT DOZER
LAYOUT OF VARIABLE MULTI-SHANK RIPPER
LAYOUT OF VARIABLE GIANT RIPPER
COMPONENT PARTS OF WORK EQUIPMENT SYSTEM
SELF-PRESSURE REDUCING VALVE
WORK EQUIPMENT LOCK SOLENOID VALVE
PILOT CIRCUIT ACCUMULATOR
QUICK DROP VALVE
PISTON VALVE
BLADE ELECTRIC LEVER
RIPPER ELECTRIC LEVER
UNDERCARRIAGE AND FRAME
MAIN FRAME
STRUCTURE OF MAIN FRAME
SUSPENSION
STRUCTURE OF SUSPENSION
FUNCTION OF SUSPENSION
TRACK FRAME AND IDLER CUSHION
STRUCTURE OF TRACK FRAME AND IDLER CUSHION
SPECIFICATIONS OF TRACK FRAME AND IDLER CUSHION
FUNCTION OF TRACK FRAME AND IDLER CUSHION
WORK EQUIPMENT
STRUCTURE OF CYLINDER STAY
STRUCTURE OF BLADE
STRUCTURE OF VARIABLE GIANT RIPPER
STRUCTURE OF VARIABLE FIXED MULTI-SHANK RIPPER
CAB AND ITS ATTACHMENTS
ROPS CAB
STRUCTURE OF ROPS CAB
FUNCTION OF ROPS CAB
CAB MOUNT
STRUCTURE OF CAB MOUNT

20 STANDARD VALUE TABLE
CONTENTS
STANDARD VALUE TABLE FOR ENGINE
STANDARD VALUE TABLE FOR ENGINE: D155AX-8
STANDARD VALUE TABLE FOR MACHINE
STANDARD VALUE TABLE FOR MACHINE: D155AX-8
MACHINE POSTURE AND PROCEDURE FOR MEASURING PERFORMANCE
STANDARD VALUE TABLE FOR ELECTRICAL
STANDARD VALUE TABLE FOR ELECTRICITY

30 TESTING AND ADJUSTING
CONTENTS
RELATED INFORMATION ON TESTING AND ADJUSTING
TOOLS FOR TESTING AND ADJUSTING
SKETCH OF TOOLS FOR TESTING AND ADJUSTING
ENGINE AND COOLING SYSTEM
TEST ENGINE SPEED
METHOD FOR TESTING ENGINE SPEED
TEST BOOST PRESSURE
METHOD FOR TESTING BOOST PRESSURE
TEST EXHAUST GAS TEMPERATURE
METHOD FOR TESTING EXHAUST GAS TEMPERATURE
TEST EXHAUST GAS COLOR
METHOD FOR TESTING EXHAUST GAS COLOR BY HANDY SMOKE CHECKER
METHOD FOR TESTING EXHAUST GAS COLOR BY SMOKE METER
TEST AND ADJUST VALVE CLEARANCE
METHOD FOR TESTING VALVE CLEARANCE
METHOD FOR ADJUSTING VALVE CLEARANCE
TEST COMPRESSION PRESSURE
METHOD FOR TESTING COMPRESSION PRESSURE
TEST BLOWBY PRESSURE
METHOD FOR TESTING BLOWBY PRESSURE
TEST ENGINE OIL PRESSURE
METHOD FOR TESTING ENGINE OIL PRESSURE BY MACHINE MONITOR
METHOD FOR TESTING ENGINE OIL PRESSURE BY TESTING TOOL
TEST EGR VALVE AND KVGT OIL PRESSURE
METHOD FOR TESTING EGR VALVE AND KVGT OIL PRESSURE
TEST FUEL PRESSURE
METHOD FOR TESTING FUEL PRESSURE
TEST FUEL RETURN RATE AND LEAKAGE
METHOD FOR TESTING FUEL RETURN RATE AND LEAKAGE
BLEED AIR FROM FUEL SYSTEM
METHOD FOR BLEEDING AIR FROM FUEL SYSTEM
TEST FUEL CIRCUIT FOR LEAKAGE
METHOD FOR TESTING FUEL CIRCUIT FOR LEAKAGE
HANDLE CYLINDER CUT-OUT MODE OPERATION
HANDLE NO-INJECTION CRANKING OPERATION
CLEAN FUEL DOSER
METHOD FOR CLEANING FUEL DOSER
WRITE INJECTOR COMPENSATION VALUE TO ENGINE CONTROLLER
METHOD FOR WRITING INJECTOR COMPENSATION VALUE
WRITE ASH IN SOOT ACCUMULATION CORRECTION TO ENGINE CONTROLLER
METHOD FOR WRITING ASH IN SOOT ACCUMULATION CORRECTION TO ENGINE CONTROLLER
TEST SCR RELATED FUNCTIONS
TEST AdBlue/DEF PUMP RAISED PRESSURE
TEST INJECTION AMOUNT FROM AdBlue/DEF INJECTOR
TEST AdBlue/DEF LINE HEATER RELAY 1
TEST AdBlue/DEF LINE HEATER RELAY 2
TEST AdBlue/DEF PUMP HEATER RELAY
TEST AdBlue/DEF TANK HEATER VALVE
TEST DENITRATION EFFICIENCY OF SCR
CLEAN AdBlue/DEF TANK
METHOD FOR CLEANING AdBlue/DEF TANK
ADJUST DECELERATOR PEDAL
METHOD FOR ADJUSTING DECELERATOR PEDAL
POWER TRAIN
TEST POWER TRAIN OIL PRESSURE
METHOD FOR TESTING POWER TRAIN OIL PRESSURE
ADJUST TRANSMISSION OUTPUT SHAFT SPEED SENSOR
METHOD FOR ADJUSTING TRANSMISSION OUTPUT SHAFT SPEED SENSOR
TEST BRAKE PERFORMANCE SIMPLY
METHOD FOR TESTING BRAKE PERFORMANCE SIMPLY
TEST AND ADJUST BRAKE PEDAL
METHOD FOR TESTING BRAKE PEDAL
METHOD FOR ADJUSTING BRAKE PEDAL
ADJUST PARKING BRAKE LEVER
METHOD FOR ADJUSTING PARKING BRAKE LEVER
MOVE MACHINE BY RELEASING PARKING BRAKE WHEN MACHINE DOES NOT TRAVEL
METHOD FOR MOVING MACHINE WITH HYDRAULIC TYPE PARKING BRAKE RELEASE SYSTEM
METHOD FOR MOVING MACHINE WITH ELECTRIC TYPE PARKING BRAKE RELEASE SYSTEM
UNDERCARRIAGE AND FRAME
ADJUSTING IDLER CLEARANCE
METHOD FOR ADJUSTING IDLER CLEARANCE
TEST AND ADJUST TRACK TENSION
METHOD FOR TESTING TRACK TENSION
METHOD FOR ADJUSTING TRACK TENSION
HYDRAULIC SYSTEM
RELEASE REMAINING PRESSURE FROM HYDRAULIC SYSTEM
METHOD FOR RELEASING REMAINING PRESSURE FROM HYDRAULIC CIRCUIT
TEST AND ADJUST WORK EQUIPMENT AND HSS OIL PRESSURES
METHOD FOR TESTING WORK EQUIPMENT AND HSS OIL PRESSURES
METHOD FOR ADJUSTING WORK EQUIPMENT AND HSS OIL PRESSURES
TEST OIL PRESSURE OF CONTROL CIRCUIT
METHOD FOR TESTING OIL PRESSURE OF CONTROL CIRCUIT
TEST WORK EQUIPMENT LOCK SOLENOID VALVE OUTPUT PRESSURE
METHOD FOR TESTING WORK EQUIPMENT LOCK SOLENOID VALVE OUTPUT PRESSURE
TEST RIPPER PIN PULLER SOLENOID VALVE OUTPUT PRESSURE
METHOD FOR TESTING RIPPER PIN PULLER SOLENOID VALVE OUTPUT PRESSURE
CHECK COOLING FAN SPEED
METHOD FOR CHECKING COOLING FAN SPEED
TEST COOLING FAN CIRCUIT OIL PRESSURE
METHOD FOR TESTING COOLING FAN CIRCUIT OIL PRESSURE
BLEED AIR FROM COOLING FAN PUMP
METHOD FOR BLEEDING AIR FROM COOLING FAN PUMP
TEST THE PARTS CAUSING HYDRAULIC DRIFT IN WORK EQUIPMENT
METHOD FOR TESTING THE PARTS CAUSING HYDRAULIC DRIFT OF BLADE LIFT CYLINDER
METHOD FOR TESTING THE PARTS CAUSING HYDRAULIC DRIFT OF BLADE TILT CYLINDER
METHOD FOR TESTING THE PARTS CAUSING HYDRAULIC DRIFT OF RIPPER LIFT CYLINDER
TEST INTERNAL OIL LEAKAGE OF WORK EQUIPMENT CYLINDER
METHOD FOR TESTING INTERNAL OIL LEAKAGE OF WORK EQUIPMENT CYLINDER
BLEED AIR FROM WORK EQUIPMENT CYLINDERS
METHOD FOR BLEEDING AIR FROM WORK EQUIPMENT CYLINDERS
OPERATION WHEN WORK EQUIPMENT IS NOT EFFECTIVE
METHOD FOR OPERATING WHEN WORK EQUIPMENT IS NOT EFFECTIVE
WORK EQUIPMENT
ADJUST WORK EQUIPMENT LOCK LEVER
METHOD FOR ADJUSTING WORK EQUIPMENT LOCK LEVER
CAB AND ITS ATTACHMENTS
TEST AND ADJUST OPERATOR'S CAB
METHOD FOR TESTING OPERATOR'S CAB
METHOD FOR ADJUSTING OPERATOR'S CAB
ELECTRICAL SYSTEM
SETTING AND OPERATION OF MACHINE MONITOR
OPERATOR MODE
SERVICE MODE
METHOD FOR STARTING UP KOMTRAX
ADJUST REARVIEW CAMERA ANGLE
ADJUST REARVIEW CAMERA ANGLE
HANDLING VOLTAGE CIRCUIT OF ENGINE CONTROLLER
HANDLE BATTERY DISCONNECT SWITCH
TEST DIODES
METHOD FOR TESTING DIODE USING DIGITAL TESTER
METHOD FOR TESTING DIODE USING ANALOG TESTER
Pm CLINIC
Pm CLINIC SERVICE
Pm CLINIC CHECK SHEET
Pm CLINIC CHECK SHEET FOR UNDERCARRIAGE

40 TROUBLESHOOTING
CONTENTS
RELATED INFORMATION ON TROUBLESHOOTING
GENERAL TROUBLESHOOTING POINTS
TROUBLESHOOTING POINTS FOR UREA SCR SYSTEM
SEQUENCE OF EVENTS IN TROUBLESHOOTING
CHECKS BEFORE TROUBLESHOOTING
CHECKS BEFORE TROUBLESHOOTING
WALK-AROUND CHECK
TESTING IN ACCORDANCE WITH TESTING PROCEDURE
FUEL - CHECK LEVEL AND TYPE
FUEL - CHECK FOR FOREIGN MATERIAL
CHECK AdBule/DEF LEVEL AND TYPE
FUEL PREFILTER - CHECK
MAIN FILTER - CHECK
OIL PAN - CHECK ENGINE OIL LEVEL AND TYPE
RESERVOIR TANK - CHECK COOLANT LEVEL
AIR CLEANER - CHECK FOR CLOGGING
OUTER ELEMENT - CLEAN
REPLACE ELEMENT
CHECK HYDRAULIC OIL LEVEL
CHECK HYDRAULIC OIL STRAINER
CHECK HYDRAULIC FILTER
CHECK OIL LEVEL IN POWER TRAIN CASE
CHECK POWER TRAIN STRAINER
CHECK POWER TRAIN FILTER
CHECK OIL LEVEL IN DAMPER CASE
CHECK OIL LEVEL IN FINAL DRIVE CASE
METHOD FOR CHECKING ELECTRIC EQUIPMENTmethod
PROCEDURE FOR TESTING AND TROUBLESHOOTING
SYMPTOM AND TROUBLESHOOTING NUMBERS
INFORMATION IN TROUBLESHOOTING TABLE
CONNECTORS LIST AND LAYOUT
CONNECTOR PIN NUMBERS - CONNECTION TABLE
T-BOXES AND T-ADAPTERS LIST
FUSE LOCATION TABLE
PRECAUTIONS FOR KDPF (KCSF, KDOC) CLEANING AND CHANGE
PREPARATION OF SHORT CIRCUIT ELECTRICAL CONNECTOR (FOR FAILURE CODES [CA1883] AND [CA3135])
FAILURE CODES TABLE
TROUBLESHOOTING BY FAILURE CODE (DISPLAY OF CODE)
FAILURE CODE [1500L0] T/M Clutches Double Engagement
FAILURE CODE [15SAL1] ECMV Release Trouble (Forward)
FAILURE CODE [15SALH] ECMV Engage Trouble (Forward)
FAILURE CODE [15SBL1] ECMV Release Trouble (Reverse)
FAILURE CODE [15SBLH] ECMV Engage Trouble (Reverse)
FAILURE CODE [15SEL1] ECMV Release Trouble (1st)
FAILURE CODE [15SELH] ECMV Engage Trouble (1st)
FAILURE CODE [15SFL1] ECMV Release Trouble (2nd)
FAILURE CODE [15SFLH] ECMV Engage Trouble (2nd)
FAILURE CODE [15SGL1] ECMV Release Trouble (3rd)
FAILURE CODE [15SGLH] ECMV Engage Trouble (3rd)
FAILURE CODE [15SJL1] ECMV Release Trouble (Lock Up Clutch)
FAILURE CODE [15SJLH] ECMV Engage Trouble (Lock Up Clutch)
FAILURE CODE [1800MW] P/T Clutch Slip
FAILURE CODE [2300NR] Brake Thermal Load Abnormality
FAILURE CODE [2301L1] ECMV Release Trouble (RH Brake)
FAILURE CODE [2301LH] ECMV Engage Trouble (RH Brake)
FAILURE CODE [2302L1] ECMV Release Trouble (LH Brake)
FAILURE CODE [2302LH] ECMV Engage Trouble (LH Brake)
FAILURE CODE [879AKA] A/C Recirculation Air Temperature Sensor Open Circuit
FAILURE CODE [879AKB] A/C Recirculation Air Temperature Sensor Short Circuit
FAILURE CODE [879BKA] A/C Fresh Air Temperature Sensor Open Circuit
FAILURE CODE [879BKB] A/C Fresh Air Temperature Sensor Short Circuit
FAILURE CODE [879CKA] Ventilating Sensor Open Circuit
FAILURE CODE [879CKB] Ventilating Sensor Short Circuit
FAILURE CODE [879DKZ] Sunlight Sensor Open Circuit or Short Circuit
FAILURE CODE [879EMC] Ventilation Damper Malfunction
FAILURE CODE [879FMC] Air Mix Damper Malfunction
FAILURE CODE [879GKX] Refrigerant Pressure Input Signal Out of Range
FAILURE CODE [989L00] Engine Controller Lock Caution 1
FAILURE CODE [989M00] Engine Controller Lock Caution 2
FAILURE CODE [989N00] Engine Controller Lock Caution 3
FAILURE CODE [A1U0N3] Hydrocarbon Desorb Request 1
FAILURE CODE [A1U0N4] Hydrocarbon Desorb Request 2
FAILURE CODE [AA10NX] Air Cleaner Clogging
FAILURE CODE [AB00KE] Charge Voltage Low
FAILURE CODE [AQ10N3] Manual Stationary Regeneration Request (KDOC Face Plugging)
FAILURE CODE [AS00N3] Manual Stationary Regeneration Request (SCR)
FAILURE CODE [AS00R2] Warning 2 (SCR Device Abnormality)
FAILURE CODE [AS00R3] Inducement 1 (SCR Device Abnormality)
FAILURE CODE [AS00R4] Inducement 2 (SCR Device Abnormality)
FAILURE CODE [AS00R5] Inducement 3 (SCR Device Abnormality)
FAILURE CODE [AS00R6] Temporary Recovery of Inducement
FAILURE CODE [AS00ZK] AdBlue/DEF Level Low Error 5
FAILURE CODE [AS10KM] AdBlue/DEF Injector Overheat Warning
FAILURE CODE [AS10NR] AdBlue/DEF Injector High Temperature Warning
FAILURE CODE [AS10NT] AdBlue/DEF Injector Overheat Caution
FAILURE CODE [B@BAZG] Engine Oil Pressure Low
FAILURE CODE [B@BCNS] Engine Coolant Overheat
FAILURE CODE [B@BCZK] Engine Coolant Level Low
FAILURE CODE [B@CENS] Power Train Oil Overheat
FAILURE CODE [B@HANS] Hydraulic Oil Overheat
FAILURE CODE [CA115] Engine NE and Backup Speed Sensor Error
FAILURE CODE [CA122] Charge Air Pressure Sensor High Error
FAILURE CODE [CA123] Charge Air Pressure Sensor Low Error
FAILURE CODE [CA131] Throttle Sensor High Error
FAILURE CODE [CA132] Throttle Sensor Low Error
FAILURE CODE [CA135] Engine Oil Pressure Sensor High Error
FAILURE CODE [CA141] Engine Oil Pressure Sensor Low Error
FAILURE CODE [CA144] Coolant Temperature Sensor High Error
FAILURE CODE [CA145] Coolant Temperature Sensor Low Error
FAILURE CODE [CA153] Charge Air Temperature Sensor High Error
FAILURE CODE [CA154] Charge Air Temperature Sensor Low Error
FAILURE CODE [CA187] Sensor 2 Supply Voltage Low Error
FAILURE CODE [CA221] Ambient Pressure Sensor High Error
FAILURE CODE [CA222] Ambient Pressure Sensor Low Error
FAILURE CODE [CA227] Sensor 2 Supply Voltage High Error
FAILURE CODE [CA234] Engine Overspeed
FAILURE CODE [CA238] NE Speed Sensor Supply Voltage Error
FAILURE CODE [CA239] NE Speed Sensor Supply Voltage High Error
FAILURE CODE [CA249] Ambient Air Temp Sensor High Error
FAILURE CODE [CA256] Ambient Air Temp Sensor Low Error
FAILURE CODE [CA271] IMV/PCV 1 Short Circuit Error
FAILURE CODE [CA272] IMV/PCV 1 Open Circuit Error
FAILURE CODE [CA273] PCV 2 Short Circuit Error
FAILURE CODE [CA274] PCV 2 Open Circuit Error
FAILURE CODE [CA322] Injector #1 (L#1) Open Circuit Error or Short Circuit Error
FAILURE CODE [CA323] Injector #5 (L#5) Open Circuit Error or Short Circuit Error
FAILURE CODE [CA324] Injector #3 (L#3) Open Circuit Error or Short Circuit Error
FAILURE CODE [CA325] Injector #6 (L#6) Open Circuit Error or Short Circuit Error
FAILURE CODE [CA331] Injector #2 (L#2) Open Circuit Error or Short Circuit Error
FAILURE CODE [CA332] Injector #4 (L#4) Open Circuit Error or Short Circuit Error
FAILURE CODE [CA343] Engine Controller Internal Failure
FAILURE CODE [CA351] Injectors Drive Circuit Error
FAILURE CODE [CA352] Sensor 1 Supply Voltage Low Error
FAILURE CODE [CA356] MAF Sensor High Error
FAILURE CODE [CA357] MAF Sensor Low Error
FAILURE CODE [CA386] Sensor 1 Supply Voltage High Error
FAILURE CODE [CA441] Power Voltage Low Error
FAILURE CODE [CA442] Power Voltage High Error
FAILURE CODE [CA449] Common Rail Pressure High Error 2
FAILURE CODE [CA451] Common Rail Pressure Sensor High Error
FAILURE CODE [CA452] Common Rail Pressure Sensor Low Error
FAILURE CODE [CA515] Common Rail Pressure Sensor Supply Voltage High Error
FAILURE CODE [CA516] Common Rail Pressure Sensor Supply Voltage Low Error
FAILURE CODE [CA553] Common Rail Pressure High Error 1
FAILURE CODE [CA555] Crankcase Pressure High Error 2
FAILURE CODE [CA556] Crankcase Pressure High Error 3
FAILURE CODE [CA559] Common Rail Pressure Low Error 1
FAILURE CODE [CA595] Turbocharger Speed High Error 2
FAILURE CODE [CA687] Turbocharger Speed Low Error
FAILURE CODE [CA689] Engine NE Speed Sensor Error
FAILURE CODE [CA691] Intake Air Temperature Sensor High Error
FAILURE CODE [CA692] Intake Air Temperature Sensor Low Error
FAILURE CODE [CA697] Engine Controller Internal Temperature Sensor High Error
FAILURE CODE [CA698] Engine Controller Internal Temperature Sensor Low Error
FAILURE CODE [CA731] Engine Backup Speed Sensor Phase Error
FAILURE CODE [CA778] Engine Backup Speed Sensor Error
FAILURE CODE [CA1117] Engine Controller Partial Data Lost Error
FAILURE CODE [CA1664] KDOC Abnormality
FAILURE CODE [CA1669] AdBlue/DEF Level Sensor Voltage High Error
FAILURE CODE [CA1673] AdBlue/DEF Level Low Error 3
FAILURE CODE [CA1677] AdBlue/DEF Temperature Sensor Low Error
FAILURE CODE [CA1678] AdBlue/DEF Temperature Sensor High Error
FAILURE CODE [CA1682] AdBlue/DEF Pump Priming Error
FAILURE CODE [CA1683] AdBlue/DEF Tank Heating Valve Voltage High Error
FAILURE CODE [CA1684] AdBlue/DEF Tank Heating Valve Voltage Low Error
FAILURE CODE [CA1686] AdBlue/DEF Quality Sensor Voltage High Error
FAILURE CODE [CA1691] Defective Regeneration
FAILURE CODE [CA1694] SCR Outlet NOx Sensor In Range Error
FAILURE CODE [CA1695] Sensor 5 Supply Voltage High Error
FAILURE CODE [CA1696] Sensor 5 Supply Voltage Low Error
FAILURE CODE [CA1712] AdBlue/DEF Tank Thawing Error
FAILURE CODE [CA1713] AdBlue/DEF Tank Heater Valve Open Stuck Error
FAILURE CODE [CA1714] AdBlue/DEF Quality Sensor Out of Calibration Error
FAILURE CODE [CA1715] AdBlue/DEF Quality Sensor Internal Circuit Error
FAILURE CODE [CA1776] Sensor Supply Relay Voltage High Error
FAILURE CODE [CA1777] Sensor Supply Relay Voltage Low Error
FAILURE CODE [CA1843] Crankcase Pressure Sensor High Error
FAILURE CODE [CA1844] Crankcase Pressure Sensor Low Error
FAILURE CODE [CA1879] KDPF Differential Pressure Sensor High Error
FAILURE CODE [CA1881] KDPF Differential Pressure Sensor Low Error
FAILURE CODE [CA1883] KDPF Differential Pressure Sensor In Range Error
FAILURE CODE [CA1885] Turbo Outlet NOx Sensor Circuit Error
FAILURE CODE [CA1887] SCR Outlet NOx Sensor Circuit Error
FAILURE CODE [CA1921] KDPF Soot Accumulation High Error 1
FAILURE CODE [CA1922] KDPF Soot Accumulation High Error 2
FAILURE CODE [CA1923] Fuel Doser Solenoid 1 High Error
FAILURE CODE [CA1924] Fuel Doser Solenoid 1 Low Error
FAILURE CODE [CA1925] Fuel Doser Solenoid 1 In Range Error
FAILURE CODE [CA1927] Dosing Fuel Pressure Sensor High Error
FAILURE CODE [CA1928] Dosing Fuel Pressure Sensor Low Error
FAILURE CODE [CA1942] Crankcase Pressure Sensor In Range Error
FAILURE CODE [CA1963] Fuel Doser Solenoid 1 Servo Error
FAILURE CODE [CA1977] Fuel Doser Open Circuit Error or Short Circuit Error
FAILURE CODE [CA1993] KDPF Differential Pressure Low Error
FAILURE CODE [CA2185] Throttle Sensor Supply Voltage High Error
FAILURE CODE [CA2186] Throttle Sensor Supply Voltage Low Error
FAILURE CODE [CA2249] Common Rail Pressure Low Error 2
FAILURE CODE [CA2265] Fuel Feed Pump Open Circuit Error
FAILURE CODE [CA2266] Fuel Feed Pump Short Circuit Error
FAILURE CODE [CA2271] EGR Valve Position Sensor High Error
FAILURE CODE [CA2272] EGR Valve Position Sensor Low Error
FAILURE CODE [CA2349] EGR Valve Solenoid Open Circuit Error
FAILURE CODE [CA2353] EGR Valve Solenoid Short Circuit Error
FAILURE CODE [CA2357] EGR Valve Servo Error
FAILURE CODE [CA2381] KVGT Position Sensor High Error
FAILURE CODE [CA2382] KVGT Position Sensor Low Error
FAILURE CODE [CA2383] KVGT Solenoid Open Circuit Error
FAILURE CODE [CA2386] KVGT Solenoid Short Circuit Error
FAILURE CODE [CA2387] KVGT Servo Error
FAILURE CODE [CA2555] Intake Air Heater Relay Open Circuit Error
FAILURE CODE [CA2556] Intake Air Heater Relay Short Circuit Error
FAILURE CODE [CA2637] KDOC Face Plugging
FAILURE CODE [CA2639] Manual Stationary Regeneration Request
FAILURE CODE [CA2732] Fuel Doser Solenoid 2 High Error
FAILURE CODE [CA2733] Fuel Doser Solenoid 2 Low Error
FAILURE CODE [CA2741] Fuel Dozer Solenoid Valve Swap Error
FAILURE CODE [CA2765] Injector Trim Data Mismatch
FAILURE CODE [CA2771] SCR Outlet NOx Sensor Datalink Timeout Error
FAILURE CODE [CA2777] Manual Stationary Regeneration Request but KDPF Regeneration Disable
FAILURE CODE [CA2878] Fuel Doser Solenoid 2 Servo Error
FAILURE CODE [CA2881] Dosing Fuel Pressure Low Error 1
FAILURE CODE [CA2976] AdBlue/DEF Pump Temperature Sensor Signal Error
FAILURE CODE [CA3133] KDPF Outlet Pressure Sensor High Error
FAILURE CODE [CA3134] KDPF Outlet Pressure Sensor Low Error
FAILURE CODE [CA3135] KDPF Outlet Pressure Sensor In Range Error
FAILURE CODE [CA3142] SCR Temperature Sensor High Error
FAILURE CODE [CA3143] SCR Temperature Sensor Low Error
FAILURE CODE [CA3144] SCR Temperature Sensor In Range Error
FAILURE CODE [CA3146] SCR Outlet Temperature Sensor High Error
FAILURE CODE [CA3147] SCR Outlet Temperature Sensor Low Error
FAILURE CODE [CA3148] SCR Outlet Temperature Sensor In Range Error
FAILURE CODE [CA3151] SCR Catalyst Efficiency Low Error 2
FAILURE CODE [CA3165] SCR Outlet Temperature High Error
FAILURE CODE [CA3167] Fuel Doser Degradation
FAILURE CODE [CA3229] SCR Temperature High Error
FAILURE CODE [CA3231] SCR Temperature High Error - Non Regeneration
FAILURE CODE [CA3232] Turbo Outlet NOx Sensor Datalink Timeout Error
FAILURE CODE [CA3235] SCR Outlet Temperature High Error - Non Regeneration
FAILURE CODE [CA3239] AdBlue/DEF Line Heater 2 Voltage High Error
FAILURE CODE [CA3241] AdBlue/DEF Line Heater 2 Voltage Low Error
FAILURE CODE [CA3242] AdBlue/DEF Tank Heating Error
FAILURE CODE [CA3251] KDOC Inlet Temperature High Error
FAILURE CODE [CA3253] KDOC Temperature Error - Non Regeneration
FAILURE CODE [CA3254] KDOC Outlet Temperature High Error 1
FAILURE CODE [CA3255] KDPF Temperature Error - Non Regeneration
FAILURE CODE [CA3256] KDPF Outlet Temperature High Error 1
FAILURE CODE [CA3311] KDOC Outlet Temperature High Error 2
FAILURE CODE [CA3312] KDPF Outlet Temperature High Error 2
FAILURE CODE [CA3313] KDOC Inlet Temperature Sensor Low Error
FAILURE CODE [CA3314] KDOC Inlet Temperature Sensor High Error
FAILURE CODE [CA3315] KDOC Inlet Temperature Sensor In Range Error
FAILURE CODE [CA3316] KDOC Outlet Temperature Sensor Low Error
FAILURE CODE [CA3317] KDOC Outlet Temperature Sensor High Error
FAILURE CODE [CA3318] KDOC Outlet Temperature Sensor In Range Error
FAILURE CODE [CA3319] KDPF Outlet Temperature Sensor High Error
FAILURE CODE [CA3321] KDPF Outlet Temperature Sensor Low Error
FAILURE CODE [CA3322] KDPF Outlet Temperature Sensor In Range Error
FAILURE CODE [CA3419] MAF Sensor Supply Voltage High Error
FAILURE CODE [CA3421] MAF Sensor Supply Voltage Low Error
FAILURE CODE [CA3497] AdBlue/DEF Level Low Error 1
FAILURE CODE [CA3498] AdBlue/DEF Level Low Error 2
FAILURE CODE [CA3543] AdBlue/DEF Quality Error (SCR Catalyst Efficiency Low)
FAILURE CODE [CA3545] SCR Outlet NOx Sensor Unstable Error
FAILURE CODE [CA3547] AdBlue/DEF Level Low Error 4
FAILURE CODE [CA3558] AdBlue/DEF Pump Voltage High Error
FAILURE CODE [CA3559] AdBlue/DEF Pump Voltage Low Error
FAILURE CODE [CA3562] AdBlue/DEF LineHeater Relay 1 Voltage High Error
FAILURE CODE [CA3563] AdBlue/DEF LineHeater Relay 1 Voltage Low Error
FAILURE CODE [CA3567] AdBlue/DEF Injector Open Circuit Error or Short Circuit Error
FAILURE CODE [CA3568] AdBlue/DEF Injector Malfunction
FAILURE CODE [CA3571] AdBlue/DEF Pump Pressure Sensor High Error
FAILURE CODE [CA3572] AdBlue/DEF Pump Pressure Sensor Low Error
FAILURE CODE [CA3574] AdBlue/DEF Pump Pressure Too Low Error
FAILURE CODE [CA3575] AdBlue/DEF Pump Pressure Too High Error
FAILURE CODE [CA3577] AdBlue/DEF FCV Voltage High Error
FAILURE CODE [CA3578] AdBlue/DEF FCV Voltage Low Error
FAILURE CODE [CA3582] SCR Catalyst Efficiency Low Error 1
FAILURE CODE [CA3583] SCR Outlet NOx Sensor Heater Warming up Error
FAILURE CODE [CA3596] AdBlue/DEF Pump Pressure Unstable Error
FAILURE CODE [CA3649] Turbo Outlet NOx Sensor Heater Warming up Error
FAILURE CODE [CA3681] SCR Outlet NOx Sensor Power Voltage Error
FAILURE CODE [CA3682] Turbo Outlet NOx Sensor Power Voltage Error
FAILURE CODE [CA3713] AdBlue/DEF Line Heater 1 Voltage High Error
FAILURE CODE [CA3717] SCR Outlet NOx Sensor Voltage Mismatch Error
FAILURE CODE [CA3718] Turbo Outlet NOx Sensor Voltage Mismatch Error
FAILURE CODE [CA3725] Turbo Outlet NOx Sensor Unstable Error
FAILURE CODE [CA3748] Turbo Outlet NOx Sensor Stuck In Range Error
FAILURE CODE [CA3751] SCR Catalyst Degradation Error
FAILURE CODE [CA3755] AdBlue/DEF Dosing Performance Degradation Error
FAILURE CODE [CA3866] AdBlue/DEF Low Concentration Error 2
FAILURE CODE [CA3867] AdBlue/DEF Low Concentration Error 1
FAILURE CODE [CA3868] AdBlue/DEF Tank Sensor Datalink Timeout Error
FAILURE CODE [CA3899] SCR NH3 Sensor Circuit Error
FAILURE CODE [CA3911] SCR NH3 Sensor Datalink Timeout Error
FAILURE CODE [CA3912] SCR NH3 Sensor Heater Warming up Error
FAILURE CODE [CA3932] SCR NH3 Sensor Heater Voltage High Error
FAILURE CODE [CA3933] SCR NH3 Sensor Heater Voltage Low Error
FAILURE CODE [CA3934] SCR NH3 Sensor Power Interrupt Error
FAILURE CODE [CA3935] SCR NH3 Sensor Trim Resistance Error
FAILURE CODE [CA3936] SCR NH3 Sensor Internal Circuit Error
FAILURE CODE [CA4151] KDOC and KDPF Temperature Sensor Datalink Timeout Error
FAILURE CODE [CA4152] SCR Temperature Sensor Datalink Timeout Error
FAILURE CODE [CA4155] AdBlue/DEF Pump Heater Relay Voltage High Error
FAILURE CODE [CA4156] AdBlue/DEF Pump Heater Relay Voltage Low Error
FAILURE CODE [CA4157] AdBlue/DEF FCV Malfunction
FAILURE CODE [CA4158] KDOC and KDPF Temperature Sensor Internal Circuit Error
FAILURE CODE [CA4159] SCR Temperature Sensor Internal Circuit Error
FAILURE CODE [CA4161] KDOC and KDPF Temperature Sensor ECU Voltage High Error
FAILURE CODE [CA4162] KDOC and KDPF Temperature Sensor ECU Voltage Low Error
FAILURE CODE [CA4163] KDOC and KDPF Temperature Sensor ECU Over Temperature Error
FAILURE CODE [CA4164] SCR Temperature Sensor ECU Voltage High Error
FAILURE CODE [CA4165] SCR Temperature Sensor ECU Voltage Low Error
FAILURE CODE [CA4166] SCR Temperature Sensor ECU High Temperature Error
FAILURE CODE [CA4168] AdBlue/DEF Pump Heater ON Stuck Error
FAILURE CODE [CA4169] AdBlue/DEF Pump Heater OFF Stuck Error
FAILURE CODE [CA4171] AdBlue/DEF Pump Thawing Error
FAILURE CODE [CA4249] AdBlue/DEF Pump Temperature Sensor 1 In Range Error
FAILURE CODE [CA4251] AdBlue/DEF Pump Temperature Sensor 2 In Range Error
FAILURE CODE [CA4259] KDOC and KDPF Temperature Sensor Power Interrupt Error
FAILURE CODE [CA4261] SCR Temperature Sensor Power Interrupt Error
FAILURE CODE [CA4277] AdBlue/DEF Quality Sensor Liquid Distinction Impossible Error
FAILURE CODE [CA4281] SCR NH3 Sensor Stuck Response Error
FAILURE CODE [CA4459] AdBlue/DEF LineHeater Relay 2 Voltage High Error
FAILURE CODE [CA4461] AdBlue/DEF LineHeater Relay 2 Voltage Low Error
FAILURE CODE [CA4658] AdBlue/DEF Flow Low Error
FAILURE CODE [CA4731] AdBlue/DEF Temperature Sensor Transmission Data Error
FAILURE CODE [CA4732] AdBlue/DEF Level Sensor Transmission Data Error
FAILURE CODE [CA4739] AdBlue/DEF Level Sensor Internal Circuit Error
FAILURE CODE [CA4768] Fuel in AdBlue/DEF Tank Error
FAILURE CODE [CA4769] AdBlue/DEF Level Measurement Impossible
FAILURE CODE [CA4842] AdBlue/DEF High Concentration Error
FAILURE CODE [CA4952] System Operating Lamp Short Circuit (Engine Controller)
FAILURE CODE [CA5115] AdBlue/DEF Line Heater 1 Voltage Low Error
FAILURE CODE [CA5383] Ash Accumulation High Error
FAILURE CODE [D130KA] Neutral Safety Relay Open Circuit
FAILURE CODE [D130KB] Neutral Safety Relay Short Circuit
FAILURE CODE [D190KA] Engine Controller Accessory Signal Hold Relay Open Circuit
FAILURE CODE [D190KB] Engine Controller Accessory Signal Hold Relay Short Circuit
FAILURE CODE [D19JKZ] Personal Code Relay Open or Short
FAILURE CODE [D811MC] KOMTRAX Malfunction
FAILURE CODE [D862KA] GPS Antenna Open Circuit
FAILURE CODE [D8ALKA] System Operating Lamp Open Circuit (KOMTRAX)
FAILURE CODE [D8ALKB] System Operating Lamp Short Circuit (KOMTRAX)
FAILURE CODE [D8AQKR] CAN 2 Defective Communication (KOMTRAX)
FAILURE CODE [DAF0MB] Monitor ROM Abnormality
FAILURE CODE [DAF0MC] Monitor Malfunction
FAILURE CODE [DAF8KB] Camera Power Supply Short Circuit
FAILURE CODE [DAF9KQ] Model Selection Signal Mismatch (Monitor)
FAILURE CODE [DAFGMC] GPS Module Malfunction
FAILURE CODE [DAFLKA] System Operating Lamp Open Circuit (Monitor)
FAILURE CODE [DAFLKB] System Operating Lamp Short Circuit (Monitor)
FAILURE CODE [DAFQKR] CAN 2 Defective Communication (Monitor)
FAILURE CODE [DAZ9KQ] Model Selection Signal Mismatch (A/C)
FAILURE CODE [DAZQKR] CAN 2 Defective Communication (A/C ECU)
FAILURE CODE [DB2QKR] CAN 2 Defective Communication (Engine Controller)
FAILURE CODE [DB2RKR] CAN 1 Defective Communication (Engine Controller)
FAILURE CODE [DB90KT] W/E Controller Internal Abnormality
FAILURE CODE [DB90MC] W/E Controller Malfunction
FAILURE CODE [DB91KK] W/E Controller Source Voltage Low Error
FAILURE CODE [DB92KK] W/E Controller Solenoid Power Voltage Low Error
FAILURE CODE [DB95KK] W/E Controller 5V Sensor 0 Power Voltage Out of Range
FAILURE CODE [DB97KK] W/E Controller 5V Sensor 1 Power Voltage Out of Range
FAILURE CODE [DB99KQ] Model Selection Signal Mismatch (W/E Controller)
FAILURE CODE [DB9LKA] System Operating Lamp Open Circuit (W/E Controller)
FAILURE CODE [DB9LKB] System Operating Lamp Short Circuit (W/E Controller)
FAILURE CODE [DB9QKR] CAN 2 Defective Communication (W/E Controller)
FAILURE CODE [DB9RKR] CAN 1 Defective Communication (W/E Controller)
FAILURE CODE [DBE0KT] P/T Controller Internal Abnormality
FAILURE CODE [DBE1KK] P/T Controller Source Voltage Low Error
FAILURE CODE [DBE2KK] P/T Controller Solenoid Power Voltage Low Error
FAILURE CODE [DBE5KK] P/T Controller 5V Sensor 0 Power Voltage Out of Range
FAILURE CODE [DBE6KK] P/T Controller 24V Sensor Power Voltage Out of Range
FAILURE CODE [DBE9KQ] Model Selection Signal Mismatch (P/T Controller)
FAILURE CODE [DBELKA] System Operating Lamp Open Circuit (P/T Controller)
FAILURE CODE [DBELKB] System Operating Lamp Short Circuit (P/T Controller)
FAILURE CODE [DBEQKR] CAN 2 Defective Communication (P/T Controller)
FAILURE CODE [DBERKR] CAN 1 Defective Communication (P/T Controller)
FAILURE CODE [DD12KA] Shift Up SW Open Circuit
FAILURE CODE [DD12KB] Shift Up SW Short Circuit
FAILURE CODE [DD13KA] Shift Down SW Open Circuit
FAILURE CODE [DD13KB] Shift Down SW Short Circuit
FAILURE CODE [DD14KA] Parking Brake Lever SW Open Circuit
FAILURE CODE [DD14KB] Parking Brake Lever SW Short Circuit
FAILURE CODE [DDDDKA] Brake Pedal SW Open Circuit
FAILURE CODE [DDDDKB] Brake Pedal SW Short Circuit
FAILURE CODE [DDDDKX] Brake Pedal SW Signal Mismatch
FAILURE CODE [DDKAKA] Blade Float SW Open Circuit
FAILURE CODE [DDKAKB] Blade Float SW Short Circuit
FAILURE CODE [DDKBKA] Blade Auto Pitch SW Open Circuit
FAILURE CODE [DDKBKB] Blade Auto Pitch SW Short Circuit
FAILURE CODE [DDKCL4] Ripper Tilt In SW Signal Mismatch
FAILURE CODE [DDKEL4] Ripper Tilt Back SW Signal Mismatch
FAILURE CODE [DDN7L4] Blade Pitch Back SW Signal Mismatch
FAILURE CODE [DDN8L4] Blade Pitch Dump SW Signal Mismatch
FAILURE CODE [DDNLKA] W/E Lock SW Open Circuit
FAILURE CODE [DDNLKB] W/E Lock SW Short Circuit
FAILURE CODE [DDTSL1] Stator Clutch Release Trouble
FAILURE CODE [DDTSLH] Stator Clutch Engage Trouble
FAILURE CODE [DFA4KX] Blade Lift Lever Potentiometer 1 and 2 Open Circuit or Hot Short Circuit
FAILURE CODE [DFA4KZ] Blade Lift Lever Potentiometer 1 and 2 Open Circuit or Hot Short Circuit
FAILURE CODE [DFA4L8] Blade Lift Lever Potentiometer 1 or 2 Signal Abnormality
FAILURE CODE [DFA5KA] Blade Lift Lever Potentiometer 1 Open Circuit
FAILURE CODE [DFA5KY] Blade Lift Lever Potentiometer 1 Hot Short Circuit
FAILURE CODE [DFA6KA] Blade Lift Lever Potentiometer 2 Open Circuit
FAILURE CODE [DFA6KY] Blade Lift Lever Potentiometer 2 Hot Short Circuit
FAILURE CODE [DFA7KX] Blade Tilt Lever Potentiometer 1 and 2 Open Circuit or Hot Short Circuit
FAILURE CODE [DFA7KZ] Blade Tilt Lever Potentiometer 1 and 2 Open Circuit or Hot Short Circuit
FAILURE CODE [DFA7L8] Blade Tilt Lever Potentiometer 1 or 2 Signal Abnormality
FAILURE CODE [DFA8KA] Blade Tilt Lever Potentiometer 1 Open Circuit
FAILURE CODE [DFA8KY] Blade Tilt Lever Potentiometer 1 Hot Short Circuit
FAILURE CODE [DFA9KA] Blade Tilt Lever Potentiometer 2 Open Circuit
FAILURE CODE [DFA9KY] Blade Tilt Lever Potentiometer 2 Hot Short Circuit
FAILURE CODE [DFAAKX] Ripper Lift Lever Potentiometer 1 and 2 Open Circuit or Hot Short Circuit
FAILURE CODE [DFAAKZ] Ripper Lift Lever Potentiometer 1 and 2 Open Circuit or Hot Short Circuit
FAILURE CODE [DFAAL8] Ripper Lift Lever Potentiometer 1 or 2 Signal Abnormality
FAILURE CODE [DFABKA] Ripper Lift Lever Potentiometer 1 Open Circuit
FAILURE CODE [DFABKY] Ripper Lift Lever Potentiometer 1 Hot Short Circuit
FAILURE CODE [DFACKA] Ripper Lift Lever Potentiometer 2 Open Circuit
FAILURE CODE [DFACKY] Ripper Lift Lever Potentiometer 2 Hot Short Circuit
FAILURE CODE [DGS1KA] Hydraulic Oil Temperature Sensor Open Circuit
FAILURE CODE [DGS1KX] Hydraulic Oil Temperature Sensor Input Signal Out of Range
FAILURE CODE [DGT1KA] T/C Oil Temperature Sensor Open Circuit
FAILURE CODE [DGT1KX] T/C Oil Temperature Sensor Input Signal Out of Range
FAILURE CODE [DH21KA] W/E Pump Pressure Sensor Open Circuit
FAILURE CODE [DH21KY] W/E Pump Pressure Sensor Hot Short Circuit
FAILURE CODE [DHA4KA] Air Cleaner Clog Sensor Open Circuit
FAILURE CODE [DHAAMA] KDPF Differential Pressure Sensor Frozen
FAILURE CODE [DHACMA] KDPF Outlet Pressure Sensor Frozen
FAILURE CODE [DHT5KA] T/C Inlet Pressure Sensor Open Circuit
FAILURE CODE [DHT5KY] T/C Inlet Pressure Sensor Hot Short Circuit
FAILURE CODE [DHT7KA] T/C Outlet Pressure Sensor Open Circuit
FAILURE CODE [DHT7KY] T/C Outlet Pressure Sensor Hot Short Circuit
FAILURE CODE [DK10KA] Fuel Control Dial Open Circuit
FAILURE CODE [DK10KB] Fuel Control Dial Short Circuit
FAILURE CODE [DK30KA] S/T Potentiometer 1 Open Circuit
FAILURE CODE [DK30KY] S/T Potentiometer 1 Hot Short Circuit
FAILURE CODE [DK30KX] S/T Potentiometer 1 and 2 Open Circuit or Hot Short Circuit
FAILURE CODE [DK30KZ] S/T Potentiometer 1 and 2 Open Circuit or Hot Short Circuit
FAILURE CODE [DK30L8] S/T Potentiometer 1 or 2 Signal Abnormality
FAILURE CODE [DK31KA] S/T Potentiometer 2 Open Circuit
FAILURE CODE [DK31KY] S/T Potentiometer 2 Hot Short Circuit
FAILURE CODE [DK40KA] Brake Pedal Potentiometer Open Circuit
FAILURE CODE [DK40KY] Brake Pedal Potentiometer Hot Short Circuit
FAILURE CODE [DK55KX] F/R Potentiometer 1 and 2 Open Circuit or Hot Short Circuit
FAILURE CODE [DK55KZ] F/R Potentiometer 1 and 2 Open Circuit or Hot Short Circuit
FAILURE CODE [DK55L8] F/R Potentiometer 1 or 2 Signal Abnormality
FAILURE CODE [DK56KA] F/R Potentiometer 1 Open Circuit
FAILURE CODE [DK56KY] F/R Potentiometer 1 Hot Short Circuit
FAILURE CODE [DK57KA] F/R Potentiometer 2 Open Circuit
FAILURE CODE [DK57KY] F/R Potentiometer 2 Hot Short Circuit
FAILURE CODE [DKH1KA] Inclination Angle Sensor Open Circuit
FAILURE CODE [DKH1KY] Inclination Angle Sensor Hot Short Circuit
FAILURE CODE [DLM3KA] Fan Speed Sensor Open Circuit
FAILURE CODE [DLM3KB] Fan Speed Sensor Short Circuit
FAILURE CODE [DLM3MB] Fan Speed Sensor Function Deterioration
FAILURE CODE [DLT3KA] T/M Output Speed Sensor Open Circuit
FAILURE CODE [DLT3KB] T/M Output Speed Sensor Ground Fault
FAILURE CODE [DR21KX] Camera 2 Picture Reverse Drive Input Out of Range
FAILURE CODE [DR31KX] Camera 3 Picture Reverse Drive Input Out of Range
FAILURE CODE [DV20KB] Back Alarm Buzzer Short Circuit
FAILURE CODE [DW7BKA] Fan Reverse Solenoid Open Circuit
FAILURE CODE [DW7BKB] Fan Reverse Solenoid Short Circuit
FAILURE CODE [DWN1KA] S/T Control Valve Right EPC Solenoid Open Circuit
FAILURE CODE [DWN1KB] S/T Control Valve Right EPC Solenoid Short Circuit
FAILURE CODE [DWN1KY] S/T Control Valve Right EPC Solenoid Hot Short Circuit
FAILURE CODE [DWN2KA] S/T Control Valve Left EPC Solenoid Open Circuit
FAILURE CODE [DWN2KB] S/T Control Valve Left EPC Solenoid Short Circuit
FAILURE CODE [DWN2KY] S/T Control Valve Left EPC Solenoid Hot Short Circuit
FAILURE CODE [DWN3KA] Sudden Stop Prevention Valve Solenoid Open Circuit
FAILURE CODE [DWN3KB] Sudden Stop Prevention Valve Solenoid Short Circuit
FAILURE CODE [DWN3KY] Sudden Stop Prevention Valve Solenoid Hot Short Circuit
FAILURE CODE [DWN5KA] Fan Control Solenoid 1 Open Circuit
FAILURE CODE [DWN5KB] Fan Control Solenoid 1 Short Circuit
FAILURE CODE [DWN5KY] Fan Control Solenoid 1 Hot Short Circuit
FAILURE CODE [DXA2KA] HSS Pump TVC Solenoid 1 Open Circuit
FAILURE CODE [DXA2KB] HSS Pump TVC Solenoid 1 Short Circuit
FAILURE CODE [DXA2KY] HSS Pump TVC Solenoid 1 Hot Short Circuit
FAILURE CODE [DXH1KA] Lockup Clutch ECMV Solenoid Open Circuit
FAILURE CODE [DXH1KB] Lockup Clutch ECMV Solenoid Short Circuit
FAILURE CODE [DXH1KY] Lockup Clutch ECMV Solenoid Hot Short Circuit
FAILURE CODE [DXH4KA] T/M 1st Clutch ECMV Solenoid Open Circuit
FAILURE CODE [DXH4KB] T/M 1st Clutch ECMV Solenoid Short Circuit
FAILURE CODE [DXH4KY] T/M 1st Clutch ECMV Solenoid Hot Short Circuit
FAILURE CODE [DXH5KA] T/M 2nd Clutch ECMV Solenoid Open Circuit
FAILURE CODE [DXH5KB] T/M 2nd Clutch ECMV Solenoid Short Circuit
FAILURE CODE [DXH5KY] T/M 2nd Clutch ECMV Solenoid Hot Short Circuit
FAILURE CODE [DXH6KA] T/M 3rd Clutch ECMV Solenoid Open Circuit
FAILURE CODE [DXH6KB] T/M 3rd Clutch ECMV Solenoid Short Circuit
FAILURE CODE [DXH6KY] T/M 3rd Clutch ECMV Solenoid Hot Short Circuit
FAILURE CODE [DXH7KA] T/M Reverse Clutch ECMV Solenoid Open Circuit
FAILURE CODE [DXH7KB] T/M Reverse Clutch ECMV Solenoid Short Circuit
FAILURE CODE [DXH7KY] T/M Reverse Clutch ECMV Solenoid Hot Short Circuit
FAILURE CODE [DXH8KA] T/M Forward Clutch ECMV Solenoid Open Circuit
FAILURE CODE [DXH8KB] T/M Forward Clutch ECMV Solenoid Short Circuit
FAILURE CODE [DXH8KY] T/M Forward Clutch ECMV Solenoid Hot Short Circuit
FAILURE CODE [DXHBKA] Right Brake ECMV Solenoid Open Circuit
FAILURE CODE [DXHBKB] Right Brake ECMV Solenoid Short Circuit
FAILURE CODE [DXHBKY] Right Brake ECMV Solenoid Hot Short Circuit
FAILURE CODE [DXHCKA] Left Brake ECMV Solenoid Open Circuit
FAILURE CODE [DXHCKB] Left Brake ECMV Solenoid Short Circuit
FAILURE CODE [DXHCKY] Left Brake ECMV Solenoid Hot Short Circuit
FAILURE CODE [DXHRKA] Blade Lift Raise EPC Solenoid Open Circuit
FAILURE CODE [DXHRKB] Blade Lift Raise EPC Solenoid Short Circuit
FAILURE CODE [DXHRKY] Blade Lift Raise EPC Solenoid Hot Short Circuit
FAILURE CODE [DXHSKA] Blade Lift Lower EPC Solenoid Open Circuit
FAILURE CODE [DXHSKB] Blade Lift Lower EPC Solenoid Short Circuit
FAILURE CODE [DXHSKY] Blade Lift Lower EPC Solenoid Hot Short Circuit
FAILURE CODE [DXHTKA] Blade Tilt Right Head EPC Solenoid Open Circuit
FAILURE CODE [DXHTKB] Blade Tilt Right Head EPC Solenoid Short Circuit
FAILURE CODE [DXHTKY] Blade Tilt Right Head EPC Solenoid Hot Short Circuit
FAILURE CODE [DXHUKA] Blade Tilt Right Bottom EPC Solenoid Open Circuit
FAILURE CODE [DXHUKB] Blade Tilt Right Bottom EPC Solenoid Short Circuit
FAILURE CODE [DXHUKY] Blade Tilt Right Bottom EPC Solenoid Hot Short Circuit
FAILURE CODE [DXHWKA] Ripper Lift Raise EPC Solenoid Open Circuit
FAILURE CODE [DXHWKB] Ripper Lift Raise EPC Solenoid Short Circuit
FAILURE CODE [DXHWKY] Ripper Lift Raise EPC Solenoid Hot Short Circuit
FAILURE CODE [DXHXKA] Ripper Lift Lower EPC Solenoid Open Circuit
FAILURE CODE [DXHXKB] Ripper Lift Lower EPC Solenoid Short Circuit
FAILURE CODE [DXHXKY] Ripper Lift Lower EPC Solenoid Hot Short Circuit
FAILURE CODE [DXHYKA] Ripper Tilt In EPC Solenoid Open Circuit
FAILURE CODE [DXHYKB] Ripper Tilt In EPC Solenoid Short Circuit
FAILURE CODE [DXHYKY] Ripper Tilt In EPC Solenoid Hot Short Circuit
FAILURE CODE [DXHZKA] Ripper Tilt Back EPC Solenoid Open Circuit
FAILURE CODE [DXHZKB] Ripper Tilt Back EPC Solenoid Short Circuit
FAILURE CODE [DXHZKY] Ripper Tilt Back EPC Solenoid Hot Short Circuit
FAILURE CODE [DXJ4KA] W/E Lock Solenoid Open Circuit
FAILURE CODE [DXJ4KB] W/E Lock Solenoid Short Circuit
FAILURE CODE [DXJ8KA] Blade Tilt Left Bottom EPC Solenoid Open Circuit
FAILURE CODE [DXJ8KB] Blade Tilt Left Bottom EPC Solenoid Short Circuit
FAILURE CODE [DXJ8KY] Blade Tilt Left Bottom EPC Solenoid Hot Short Circuit
FAILURE CODE [DXJ9KA] Blade Tilt Left Head EPC Solenoid Open Circuit
FAILURE CODE [DXJ9KB] Blade Tilt Left Head EPC Solenoid Short Circuit
FAILURE CODE [DXJ9KY] Blade Tilt Left Head EPC Solenoid Hot Short Circuit
FAILURE CODE [DXJAKA] Quick drop solenoid: Open
FAILURE CODE [DXJAKB] Quick Drop EPC Solenoid Short Circuit
FAILURE CODE [DXJAKY] Quick Drop EPC Solenoid Hot Short Circuit
FAILURE CODE [DXJBKA] T/C Stator Clutch ECMV Solenoid Open Circuit
FAILURE CODE [DXJBKB] T/C Stator Clutch ECMV Solenoid Short Circuit
FAILURE CODE [DXJBKY] T/C Stator Clutch ECMV Solenoid Hot Short Circuit
TROUBLESHOOTING OF ELECTRICAL SYSTEM (E-MODE)
E-1 ENGINE DOES NOT START (ENGINE DOES NOT CRANK)
E-2 MANUAL PREHEATING SYSTEM DOES NOT WORK
E-3 AUTOMATIC PREHEATING SYSTEM DOES NOT WORK
E-4 WHILE PREHEATING IS WORKING, PREHEATING MONITOR DOES NOT LIGHT UP
E-5 WHEN STARTING SWITCH IS TURNED TO ON POSITION, MACHINE MONITOR DISPLAYS NOTHING
E-6 WHILE STARTING SWITCH IS TURNED TO ON POSITION (WITH ENGINE STOPPED), RADIATOR COOLANT LEVEL MONITOR LIGHTS UP IN YELLOW
E-7 AIR CLEANER CLOGGING MONITOR LIGHTS UP IN YELLOW WHILE ENGINE IS RUNNING
E-8 CHARGE LEVEL MONITOR LIGHTS UP IN RED WHILE ENGINE IS RUNNING
E-9 ENGINE COOLANT TEMPERATURE MONITOR LIGHTS UP IN RED WHILE ENGINE IS RUNNING
E-10 ENGINE OIL PRESSURE MONITOR LIGHTS UP IN RED WHILE ENGINE IS RUNNING
E-11 POWER TRAIN OIL TEMPERATURE MONITOR LIGHTS UP IN RED WHILE ENGINE IS RUNNING
E-12 HYDRAULIC OIL TEMPERATURE MONITOR LIGHTS UP IN RED WHILE ENGINE IS RUNNING
E-13 ENGINE COOLANT TEMPERATURE GAUGE DOES NOT INDICATE CORRECT TEMPERATURE
E-14 FUEL LEVEL GAUGE DOES NOT INDICATE CORRECT LEVEL
E-15 POWER TRAIN OIL TEMPERATURE GAUGE DOES NOT INDICATE CORRECT TEMPERATURE
E-16 HYDRAULIC OIL TEMPERATURE GAUGE DOES NOT INDICATE CORRECT TEMPERATURE
E-17 OPERATION MODE DOES NOT CHANGE
E-18 OPERATION MODE DOES NOT CHANGE
E-19 OPERATING CUSTOMIZE SWITCH DOES NOT DISPLAY CUSTOMIZE SCREEN
E-20 MODIFYING SETTING ON CUSTOMIZE SCREEN DOES NOT CHANGE SETTING OF MACHINE
E-21 SOME AREAS OF MACHINE MONITOR SCREEN ARE NOT DISPLAYED
E-22 ALARM BUZZER DOES NOT SOUND OR DOES NOT STOP SOUNDING
E-23 SERVICE METER IS NOT DISPLAYED, WHILE STARTING SWITCH IS IN OFF POSITION
E-24 SERVICE MODE CANNOT BE SELECTED
E-25 HORN DOES NOT SOUND
E-26 HORN DOES NOT STOP SOUNDING
E-27 BACKUP ALARM DOES NOT SOUND
E-28 BACKUP ALARM DOES NOT STOP SOUNDING
E-29 HEADLAMP DOES NOT LIGHT UP
E-30 REAR LAMP AND RIPPER POINT LAMP DO NOT LIGHT UP
E-31 NO WIPER OPERATES CONTINUOUSLY OR INTERMITTENTLY
E-32 FRONT WIPER DOES NOT OPERATE (FAILED IN BOTH CONTINUOUS AND INTERMITTENT OPERATIONS)
E-33 REAR WIPER DOES NOT OPERATE (FAILED IN BOTH CONTINUOUS AND INTERMITTENT OPERATIONS)
E-34 LEFT DOOR WIPER DOES NOT OPERATE (FAILED IN BOTH CONTINUOUS AND INTERMITTENT OPERATIONS)
E-35 RIGHT DOOR WIPER DOES NOT OPERATE (FAILED IN BOTH CONTINUOUS AND INTERMITTENT OPERATIONS)
E-36 FUEL FEED PUMP DOES NOT OPERATE OR STOP AUTOMATICALLY
E-37 FAN DOES NOT ROTATE IN REVERSE
E-38 GEAR CANNOT BE SHIFTED
E-39 FRONT WASHER DOES NOT OPERATE
E-40 REAR WASHER DOES NOT OPERATE
E-41 LEFT DOOR WASHER DOES NOT OPERATE
E-42 RIGHT DOOR WASHER DOES NOT OPERATE
E-43 RIPPER PIN PULLER DOES NOT WORK
E-44 KOMTRAX SYSTEM DOES NOT OPERATE NORMALLY
TROUBLESHOOTING FOR HYDRAULIC AND MECHANICAL SYSTEMS (H MODE)
INFORMATION MENTIONED IN TROUBLESHOOTING TABLE (H MODE)
SYSTEM CHART OF HYDRAULIC AND MECHANICAL SYSTEMS
FAILURE MODE AND CAUSE TABLE
H-1 MACHINE LACKS POWER (INSUFFICIENT DRAWBAR PULL)
H-2 MACHINE DOES NOT TRAVEL (AT 2ND OR 3RD GEAR SPEED)
H-3 MACHINE DOES NOT MOVE OFF AT ALL GEAR SPEEDS
H-4 MACHINE TRAVELS ONLY IN ONE DIRECTION, EITHER FORWARD OR IN REVERSE
H-5 LARGE TIME LAG IS IN GEAR SHIFTING OR DIRECTIONAL CHANGE
H-6 MACHINE CANNOT BE STEERED (MACHINE DOES NOT TURN LEFT OR RIGHT)
H-7 STEERING SPEED OR POWER IS INSUFFICIENT
H-8 BRAKE DOES NOT WORK
H-9 TORQUE CONVERTER LOCKUP CLUTCH DOES NOT ENGAGE
H-10 POWER TRAIN OIL OVERHEATS
H-11 UNUSUAL NOISE IS HEARD FROM AROUND WORK EQUIPMENT AND HSS PUMP OR HSS MOTOR
H-12 ALL WORK EQUIPMENTS OPERATE SLOWLY
H-13 ALL WORK EQUIPMENTS DO NOT OPERATE
H-14 BLADE LIFT SPEED OR POWER IS LOW
H-15 BLADE TILT SPEED OR POWER IS LOW
H-16 RIPPER LIFT SPEED OR POWER IS LOW
H-17 RIPPER TILT SPEED OR POWER IS LOW
H-18 HYDRAULIC DRIFT OF LIFTED BLADE IS LARGE
H-19 HYDRAULIC DRIFT OF TILTED BLADE IS LARGE
H-20 HYDRAULIC DRIFT OF LIFTED RIPPER IS LARGE
H-21 RIPPER PIN PULLER CYLINDER DOES NOT OPERATE
H-22 BLADE PITCH CYLINDER DOES NOT OPERATE
H-23 FAN SPEED IS ABNORMAL (TOO HIGH OR LOW, OR STATIONARY)
H-24 UNUSUAL NOISE IS HEARD FROM AROUND FAN
TROUBLESHOOTING OF ENGINE (S-MODE)
INFORMATION MENTIONED IN TROUBLESHOOTING TABLE (S MODE)
S-1 ENGINE DOES NOT CRANK WHEN STARTING SWITCH IS TURNED TO START POSITION
S-2 ENGINE CRANKS BUT NO EXHAUST GAS COMES OUT
S-3 FUEL IS BEING INJECTED BUT ENGINE DOES NOT START (MISFIRING: ENGINE CRANKS BUT DOES NOT START)
S-4 ENGINE STARTABILITY IS POOR
S-5 ENGINE DOES NOT PICK UP SMOOTHLY
S-6 ENGINE STOPS DURING OPERATION
S-7 ENGINE RUNS ROUGH OR IS UNSTABLE
S-8 ENGINE LACKS POWER
S-9 KDPF GETS CLOGGED IN A SHORT TIME
S-10 ENGINE OIL CONSUMPTION IS EXCESSIVE
S-11 OIL BECOMES CONTAMINATED QUICKLY
S-12 FUEL CONSUMPTION IS EXCESSIVE
S-13 OIL IS IN COOLANT (OR COOLANT SPURTS BACK OR COOLANT LEVEL GOES DOWN)
S-14 OIL PRESSURE DROPS
S-15 FUEL MIXES INTO ENGINE OIL
S-16 WATER MIXES INTO ENGINE OIL (MILKY)
S-17 COOLANT TEMPERATURE RISES TOO HIGH (OVERHEATING)
S-18 UNUSUAL NOISE IS HEARD
S-19 VIBRATION IS EXCESSIVE
S-20 AIR CANNOT BE BLED FROM FUEL CIRCUIT
S-21 ACTIVE REGENERATION IS EXECUTED FREQUENTLY
S-22 ACTIVE REGENERATION TAKES TIME
S-23 WHITE SMOKE IS EXHAUSTED DURING ACTIVE REGENERATION
S-24 AdBlue/DEF CONSUMPTION IS EXCESSIVE
S-25 THERE IS UNUSUAL SMELL (IRRITATING ODOR)
S-26 FOREIGN MATERIALS ENTER AdBlue/DEF (AdBlue/DEF INCREASES)

50 DISASSEMBLY AND ASSEMBLY
CONTENTS
RELATED INFORMATION ON DISASSEMBLY AND ASSEMBLY
HOW TO READ THIS MANUAL
COATING MATERIALS LIST
SPECIAL TOOLS LIST
SKETCHES OF SPECIAL TOOLS
ENGINE AND COOLING SYSTEM
REMOVE AND INSTALL SUPPLY PUMP ASSEMBLY
METHOD FOR REMOVING SUPPLY PUMP ASSEMBLY
METHOD FOR INSTALLING SUPPLY PUMP ASSEMBLY
REMOVE AND INSTALL INJECTOR ASSEMBLY
METHOD FOR REMOVING INJECTOR ASSEMBLY
METHOD FOR INSTALLING INJECTOR ASSEMBLY
REMOVE AND INSTALL FUEL DOSER ASSEMBLY
METHOD FOR REMOVING FUEL DOSER ASSEMBLY
METHOD FOR INSTALLING FUEL DOSER ASSEMBLY
REMOVE AND INSTALL CYLINDER HEAD ASSEMBLY
METHOD FOR REMOVING CYLINDER HEAD ASSEMBLY
METHOD FOR INSTALLING CYLINDER HEAD ASSEMBLY
REMOVE AND INSTALL EGR VALVE ASSEMBLY
METHOD FOR REMOVING EGR VALVE ASSEMBLY
METHOD FOR INSTALLING EGR VALVE ASSEMBLY
REMOVE AND INSTALL EGR COOLER ASSEMBLY
METHOD FOR REMOVING EGR COOLER ASSEMBLY
METHOD FOR INSTALLING EGR COOLER ASSEMBLY
REMOVE AND INSTALL STARTING MOTOR ASSEMBLY
METHOD FOR REMOVING STARTING MOTOR ASSEMBLY
METHOD FOR INSTALLING STARTING MOTOR ASSEMBLY
REMOVE AND INSTALL ALTERNATOR BELT
METHOD FOR REMOVING ALTERNATOR BELT
METHOD FOR INSTALLING ALTERNATOR BELT
REMOVE AND INSTALL RADIATOR ASSEMBLY
METHOD FOR REMOVING RADIATOR ASSEMBLY
METHOD FOR INSTALLING RADIATOR ASSEMBLY
REMOVE AND INSTALL HYDRAULIC OIL COOLER ASSEMBLY
METHOD FOR REMOVING HYDRAULIC OIL COOLER ASSEMBLY
METHOD FOR INSTALLING HYDRAULIC OIL COOLER ASSEMBLY
REMOVE AND INSTALL AFTERCOOLER ASSEMBLY
METHOD FOR REMOVING AFTERCOOLER ASSEMBLY
METHOD FOR INSTALLING AFTERCOOLER ASSEMBLY
REMOVE AND INSTALL COOLING FAN DRIVE ASSEMBLY
METHOD FOR REMOVING COOLING FAN DRIVE ASSEMBLY
METHOD FOR INSTALLING COOLING FAN DRIVE ASSEMBLY
REMOVE AND INSTALL COOLING FAN MOTOR ASSEMBLY
METHOD FOR REMOVING COOLING FAN MOTOR ASSEMBLY
METHOD FOR INSTALLING COOLING FAN MOTOR ASSEMBLY
REMOVE AND INSTALL ENGINE ASSEMBLY
METHOD FOR REMOVING ENGINE ASSEMBLY
METHOD FOR INSTALLING ENGINE ASSEMBLY
REMOVE AND INSTALL ENGINE FRONT OIL SEAL
METHOD FOR REMOVING ENGINE FRONT OIL SEAL
METHOD FOR INSTALLING ENGINE FRONT OIL SEAL
REMOVE AND INSTALL ENGINE REAR OIL SEAL
METHOD FOR REMOVING ENGINE REAR OIL SEAL
METHOD FOR INSTALLING ENGINE REAR OIL SEAL
REMOVE AND INSTALL ENGINE HOOD ASSEMBLY
METHOD FOR REMOVING ENGINE HOOD ASSEMBLY
METHOD FOR INSTALLING ENGINE HOOD ASSEMBLY
REMOVE AND INSTALL FUEL TANK ASSEMBLY
METHOD FOR REMOVING HYDRAULIC TANK ASSEMBLY
METHOD FOR INSTALLING FUEL TANK ASSEMBLY
REMOVE AND INSTALL AdBlue/DEF TANK ASSEMBLY
METHOD FOR REMOVING AdBlue/DEF TANK ASSEMBLY
METHOD FOR INSTALLING AdBlue/DEF TANK ASSEMBLY
REMOVE AND INSTALL AdBlue/DEF TANK SENSOR FLANGE ASSEMBLY
METHOD FOR REMOVING AdBlue/DEF TANK SENSOR FLANGE ASSEMBLY
METHOD FOR INSTALLING AdBlue/DEF TANK SENSOR FLANGE ASSEMBLY
REMOVE AND INSTALL AdBlue/DEF TANK SENSOR
METHOD FOR REMOVING AdBlue/DEF TANK SENSOR
METHOD FOR INSTALLING AdBlue/DEF TANK SENSOR
REMOVE AND INSTALL AdBlue/DEF TANK STRAINER
METHOD FOR REMOVING AdBlue/DEF TANK STRAINER
METHOD FOR INSTALLING AdBlue/DEF TANK STRAINER
REMOVE AND INSTALL KDPF ASSEMBLY
METHOD FOR REMOVING KDPF ASSEMBLY
METHOD FOR INSTALLING KDPF ASSEMBLY
DISASSEMBLE AND ASSEMBLE OF KDPF ASSEMBLY
METHOD FOR DISASSEMBLING KDPF ASSEMBLY
METHOD FOR ASSEMBLING KDPF ASSEMBLY
REMOVE AND INSTALL SCR ASSEMBLY
METHOD FOR REMOVING SCR ASSEMBLY
METHOD FOR INSTALLING SCR ASSEMBLY
REMOVE AND INSTALL KDPF, SCR ASSEMBLY
METHOD FOR REMOVING KDPF, SCR ASSEMBLY
METHOD FOR INSTALLING KDPF, SCR ASSEMBLY
REMOVE AND INSTALL KCCV ASSEMBLY
METHOD FOR REMOVING KCCV ASSEMBLY
METHOD FOR INSTALLING KCCV ASSEMBLY
REMOVE AND INSTALL AdBlue/DEF MIXING TUBE
METHOD FOR REMOVING AdBlue/DEF MIXING TUBE
METHOD FOR INSTALLING AdBlue/DEF MIXING TUBE
REMOVE AND INSTALL AdBlue/DEF INJECTOR
METHOD FOR REMOVING AdBlue/DEF INJECTOR
METHOD FOR INSTALLING AdBlue/DEF INJECTOR
REMOVE AND INSTALL AdBlue/DEF PUMP
METHOD FOR REMOVING AdBlue/DEF PUMP
METHOD FOR INSTALLING AdBlue/DEF PUMP
REMOVE AND INSTALL AdBlue/DEF HOSE
METHOD FOR REMOVING AdBlue/DEF HOSE
METHOD FOR INSTALLING AdBlue/DEF HOSE
REMOVE AND INSTALL AIR CLEANER ASSEMBLY
METHOD FOR REMOVING AIR CLEANER ASSEMBLY
METHOD FOR INSTALLING AIR CLEANER ASSEMBLY
REMOVE AND INSTALL AIR CONDITIONER COMPRESSOR ASSEMBLY
METHOD FOR REMOVING AIR CONDITIONER COMPRESSOR ASSEMBLY
METHOD FOR INSTALLING AIR CONDITIONER COMPRESSOR ASSEMBLY
REMOVE AND INSTALL AIR CONDITIONER CONDENSER ASSEMBLY
METHOD FOR REMOVING AIR CONDITIONER CONDENSER ASSEMBLY
METHOD FOR INSTALLING AIR CONDITIONER CONDENSER ASSEMBLY
POWER TRAIN
REMOVE AND INSTALL DAMPER ASSEMBLY
METHOD FOR REMOVING DAMPER ASSEMBLY
METHOD FOR INSTALLING DAMPER ASSEMBLY
DISASSEMBLE AND ASSEMBLE DAMPER ASSEMBLY
METHOD FOR DISASSEMBLE DAMPER ASSEMBLY
METHOD FOR ASSEMBLING DAMPER ASSEMBLY
REMOVE AND INSTALL POWER TRAIN UNIT ASSEMBLY
METHOD FOR REMOVING POWER TRAIN UNIT ASSEMBLY
METHOD FOR INSTALLING POWER TRAIN UNIT ASSEMBLY
DISCONNECTING AND CONNECTING POWER TRAIN UNIT ASSEMBLY
METHOD FOR DISCONNECTING POWER TRAIN UNIT ASSEMBLY
METHOD FOR CONNECTING POWER TRAIN UNIT ASSEMBLY
DISASSEMBLE AND ASSEMBLE PTO ASSEMBLY
METHOD FOR DISASSEMBLING PTO ASSEMBLY
METHOD FOR ASSEMBLING PTO ASSEMBLY
DISASSEMBLE AND ASSEMBLE TORQUE CONVERTER ASSEMBLY
METHOD FOR DISASSEMBLING TORQUE CONVERTER ASSEMBLY
METHOD FOR ASSEMBLING TORQUE CONVERTER ASSEMBLY
DISASSEMBLE AND ASSEMBLE TRANSMISSION ASSEMBLY
METHOD FOR DISASSEMBLING TRANSMISSION ASSEMBLY
METHOD FOR DISASSEMBLING TRANSMISSION ASSEMBLY
DISASSEMBLE AND ASSEMBLE HSS ASSEMBLY
METHOD FOR DISASSEMBLING HSS ASSEMBLY
METHOD FOR ASSEMBLING HSS ASSEMBLY
REMOVAL AND INSTALLATION OF HSS MOTOR
METHOD FOR REMOVING HSS MOTOR ASSEMBLY
METHOD FOR INSTALLING HSS MOTOR ASSEMBLY
REMOVE AND INSTALL FINAL DRIVE ASSEMBLY
METHOD FOR REMOVING TRAVEL MOTOR AND FINAL DRIVE ASSEMBLY
METHOD FOR INSTALLING FINAL DRIVE ASSEMBLY
DISASSEMBLE AND ASSEMBLE FINAL DRIVE ASSEMBLY
METHOD FOR DISASSEMBLING FINAL DRIVE ASSEMBLY
METHOD FOR ASSEMBLING FINAL DRIVE ASSEMBLY
UNDERCARRIAGE AND FRAME
REMOVE AND INSTALL TRACK FRAME ASSEMBLY
METHOD FOR REMOVING TRACK FRAME ASSEMBLY
METHOD FOR INSTALLING TRACK FRAME ASSEMBLY
REMOVE AND INSTALL IDLER ASSEMBLY
METHOD FOR REMOVING IDLER ASSEMBLY
METHOD FOR INSTALLING IDLER ASSEMBLY
DISASSEMBLE AND ASSEMBLE IDLER ASSEMBLY
METHOD FOR DISASSEMBLING IDLER ASSEMBLY
METHOD FOR ASSEMBLING IDLER ASSEMBLY
REMOVE AND INSTALL RECOIL SPRING ASSEMBLY
METHOD FOR REMOVING RECOIL SPRING ASSEMBLY
METHOD FOR INSTALLING RECOIL SPRING ASSEMBLY
DISASSEMBLE AND ASSEMBLE RECOIL SPRING
METHOD FOR DISASSEMBLING AND ASSEMBLING RECOIL SPRING
METHOD FOR ASSEMNLING RECOIL SPRING ASSEMBLY
REMOVE AND INSTALL TRACK ROLLER ASSEMBLY
METHOD FOR REMOVING TRACK ROLLER ASSEMBLY
METHOD FOR INSTALLING TRACK ROLLER ASSEMBLY
DISASSEMBLE AND ASSEMBLE TRACK ROLLER ASSEMBLY
METHOD FOR DISASSEMBLING TRACK ROLLER ASSEMBLY
METHOD FOR ASSEMBLING TRACK ROLLER ASSEMBLY
REMOVE AND INSTALL NO. 1 BOGIE ASSEMBLY
METHOD FOR REMOVING NO. 1 BOGIE ASSEMBLY
METHOD FOR INSTALLING NO. 1 BOGIE ASSEMBLY
REMOVE AND INSTALL NO. 2, 3, 4 BOGIE ASSEMBLIES
METHOD FOR REMOVING NO. 2, 3, 4 BOGIE ASSEMBLIES
METHOD FOR INSTALLING NO. 2, 3, 4 BOGIE ASSEMBLIES
DISASSEMBLE AND ASSEMBLE TRACK ROLLER BOGEY ASSEMBLY
METHOD FOR DIS ASSEMBLING TRACK ROLLER BOGEY ASSEMBLY
METHOD FOR ASSEMBLING TRACK ROLLER BOGEY ASSEMBLY
REMOVE AND INSTALL CARRIER ROLLER ASSEMBLY
METHOD FOR REMOVING CARRIER ROLLER ASSEMBLY
METHOD FOR INSTALLING CARRIER ROLLER ASSEMBLY
DISASSEMBLEAND ASSEMBLE CARRIER ROLLER ASSEMBLY
METHOD FOR DISASSEMBLING CARRIER ROLLER ASSEMBLY
METHOD FOR ASSEMBLING CARRIER ROLLER ASSEMBLY
REMOVE AND INSTALL PIVOT SHAFT ASSEMBLY
METHOD FOR REMOVING PIVOT SHAFT ASSEMBLY
METHOD FOR INSTALLING PIVOT SHAFT ASSEMBLY
SEPARATION AND CONNECTION OF TRACK ASSEMBLY
METHOD FOR CHECKING BEFORE SEPARATION OF THE TRACK ASSEMBLY
METHOD FOR SEPARATING OF TRACK ASSEMBLY (NORMAL)
METHOD FOR SEPARATING TRACK ASSEMBLY (WHEN TRACK FRAME HAS INTERNAL DEFECT)
METHOD FOR INSTALLING TRACK ASSEMBLY
DISASSEMBLY AND ASSEMBLY OF TRACK ASSEMBLY GENERALLY
METHOD FOR ASSEMBLING TRACK ASSEMBLY GENERALLY
DISASSEMBLE AND ASSEMBLE ONE TRACK LINK ASSEMBLY IN FIELD
METHOD FOR DISASSEMBLING ONE TRACK LINK ASSEMBLY IN FIELD
METHOD FOR ASSEMBLING ONE TRACK LINK ASSEMBLY IN FIELD
DISASSEMBLE AND ASSEMBLE MASTER LINK
METHOD FOR DISASSEMBLING MASTER LINK
METHOD FOR ASSEMBLING MASTER LINK
REMOVE AND INSTALL EQUALIZER BAR ASSEMBLY
METHOD FOR REMOVING EQUALIZER BAR ASSEMBLY
METHOD FOR INSTALLING EQUALIZER BAR ASSEMBLY
DISASSEMBLE AND ASSEMBLE EQUALIZER BAR BUSHINGS
METHOD FOR DISASSEMBLING EQUALIZER BAR BUSHINGS
METHOD FOR ASSEMBLING EQUALIZER BAR BUSHINGS
REMOVE AND INSTALL SPROCKET
METHOD FOR REMOVING SPROCKET
METHOD FOR INSTALLING SPROCKET
HYDRAULIC SYSTEM
REMOVE AND INSTALL HYDRAULIC TANK ASSEMBLY
METHOD FOR REMOVING HYDRAULIC TANK ASSEMBLY
METHOD FOR INSTALLING HYDRAULIC TANK ASSEMBLY
REMOVE AND INSTALL WORK EQUIPMENT PUMP AND HSS PUMP ASSEMBLY
METHOD FOR REMOVING WORK EQUIPMENT PUMP AND HSS PUMP ASSEMBLY
METHOD FOR INSTALLING WORK EQUIPMENT PUMP AND HSS PUMP ASSEMBLY
REMOVE AND INSTALL POWER TRAIN PUMP AND STEERING LUBRICATION PUMP ASSEMBLY
METHOD FOR REMOVING POWER TRAIN PUMP AND STEERING LUBRICATION PUMP ASSEMBLY
METHOD FOR INSTALLING POWER TRAIN PUMP AND STEERING LUBRICATION PUMP ASSEMBLY
REMOVE AND INSTALL COOLING FAN PUMP ASSEMBLY
METHOD FOR REMOVING COOLING FAN PUMP ASSEMBLY
METHOD FOR INSTALLING COOLING FAN PUMP ASSEMBLY
REMOVE AND INSTALL SCAVENGING PUMP ASSEMBLY
METHOD FOR REMOVING SCAVENGING PUMP ASSEMBLY
METHOD FOR INSTALLING SCAVENGING PUMP ASSEMBLY
REMOVE AND INSTALL CONTROL VALVE ASSEMBLY
METHOD FOR REMOVING CONTROL VALVE ASSEMBLY
METHOD FOR INSTALLING CONTROL VALVE ASSEMBLY
WORK EQUIPMENT
REMOVE AND INSTALL BLADE ASSEMBLY
METHOD FOR REMOVING BLADE ASSEMBLY
METHOD FOR INSTALLING BLADE ASSEMBLY
DISASSEMBLE AND ASSEMBLE BLADE ASSEMBLY
METHOD FOR DISASSEMBLING BLADE ASSEMBLY
METHOD FOR ASSEMBLING BLADE ASSEMBLY
DISASSEMBLE AND ASSEMBLE FIXED MULTI-SHANK RIPPER ASSEMBLY
METHOD FOR DISASSEMBLING FIXED MULTI-SHANK RIPPER ASSEMBLY
METHOD FOR ASSEMBLING FIXED MULTI-SHANK RIPPER ASSEMBLY
DISASSEMBLE AND ASSEMBLE GIANT RIPPER ASSEMBLY
METHOD FOR DISASSEMBLING GIANT RIPPER ASSEMBLY
METHOD FOR ASSEMBLING GIANT RIPPER ASSEMBLY
METHOD FOR DISASSEMBLING AND ASSEMBLING BLADE LIFT CYLINDER ASSEMBLY
METHOD FOR DISASSEMBLING BLADE LIFT CYLINDER ASSEMBLY
METHOD FOR ASSEMBLING BLADE LIFT CYLINDER ASSEMBLY
METHOD FOR DISASSEMBLING AND ASSEMBLING BLADE TILT CYLINDER ASSEMBLY
METHOD FOR DISASSEMBLING BLADE TILT CYLINDER ASSEMBLY
METHOD FOR ASSEMBLING BLADE TILT CYLINDER ASSEMBLY
METHOD FOR DISASSEMBLING AND ASSEMBLING RIPPER CYLINDER ASSEMBLY
METHOD FOR DISASSEMBLING RIPPER CYLINDER ASSEMBLY
METHOD FOR ASSEMBLING RIPPER CYLINDER ASSEMBLY
CAB AND ITS ATTACHMENTS
REMOVE AND INSTALL OPERATOR'S CAB ASSEMBLY
METHOD FOR REMOVING OPERATOR'S CAB ASSEMBLY
METHOD FOR INSTALLING OPERATOR'S CAB ASSEMBLY
REMOVE AND INSTALL OPERATOR'S CAB GLASS (ADHERED GLASS)
METHOD FOR REMOVING OPERATOR'S CAB GLASS (ADHERED GLASS)
METHOD FOR INSTALLING OPERATOR'S CAB GLASS (ADHERED GLASS)
REMOVE AND INSTALL AIR CONDITIONER UNIT ASSEMBLY
METHOD FOR REMOVING AIR CONDITIONER UNIT ASSEMBLY
METHOD FOR INSTALLING AIR CONDITIONER UNIT ASSEMBLY
REMOVE AND INSTALL OPERATOR'S SEAT
METHOD FOR REMOVING OPERATOR'S SEAT
METHOD FOR INSTALLING OPERATOR'S SEAT
REMOVE AND INSTALL SEAT BELT
METHOD FOR REMOVING SEAT BELT
METHOD FOR INSTALLING SEAT BELT
ELECTRICAL SYSTEM
REMOVE AND INSTALL ENGINE CONTROLLER ASSEMBLY
METHOD FOR REMOVING ENGINE CONTROLLER ASSEMBLY
METHOD FOR INSTALLING ENGINE CONTROLLER ASSEMBLY
REMOVE AND INSTALL POWER TRAIN CONTROLLER ASSEMBLY
METHOD FOR REMOVING POWER TRAIN CONTROLLER ASSEMBLY
METHOD FOR INSTALLING POWER TRAIN CONTROLLER ASSEMBLY
REMOVE AND INSTALL WORK EQUIPMENT CONTROLLER ASSEMBLY
METHOD FOR REMOVING WORK EQUIPMENT CONTROLLER ASSEMBLY
METHOD FOR INSTALLING WORK EQUIPMENT CONTROLLER ASSEMBLY
REMOVE AND INSTALL MACHINE MONITOR ASSEMBLY
METHOD FOR REMOVING MACHINE MONITOR ASSEMBLY
METHOD FOR INSTALLING MACHINE MONITOR ASSEMBLY
REMOVE AND INSTALL MASS AIR FLOW AND TEMPERATURE SENSOR
METHOD FOR REMOVING MASS AIR FLOW AND TEMPERATURE SENSOR
METHOD FOR INSTALLING MASS AIR FLOW AND TEMPERATURE SENSOR
REMOVE AND INSTALL KCCV CRANKCASE PRESSURE SENSOR
METHOD FOR REMOVING KCCV CRANKCASE PRESSURE SENSOR
METHOD FOR INSTALLING KCCV CRANKCASE PRESSURE SENSOR
REMOVE AND INSTALL SCR TEMPERATURE SENSOR
METHOD FOR REMOVING SCR TEMPERATURE SENSOR
METHOD FOR INSTALLING SCR TEMPERATURE SENSOR
REMOVE AND INSTALL BATTERY RELAY
METHOD FOR REMOVING BATTERY RELAY
METHOD FOR INSTALLING BATTERY RELAY
REMOVE AND INSTALL KOMTRAX TERMINAL ASSEMBLY
METHOD FOR REMOVING KOMTRAX TERMINAL ASSEMBLY
METHOD FOR INSTALLING KOMTRAX TERMINAL ASSEMBLY

60 MAINTENANCE STANDARD
CONTENTS
ENGINE AND COOLING SYSTEM
MAINTENANCE STANDARD OF ENGINE MOUNT
MAINTENANCE STANDARD OF DAMPER
MAINTENANCE STANDARD OF COOLING SYSTEM
MAINTENANCE STANDARD OF COOLING FAN PUMP
MAINTENANCE STANDARD OF SERVO VALVE
MAINTENANCE STANDARD OF COOLING FAN MOTOR
POWER TRAIN
MAINTENANCE STANDARD OF UNIVERSAL JOINT
MAINTENANCE STANDARD OF POWER TRAIN MOUNT
MAINTENANCE STANDARD OF TORQUE CONVERTER AND PTO
MAINTENANCE STANDARD OF TORQUE CONVERTER CONTROL VALVE
MAINTENANCE STANDARD OF LOCKUP CLUTCH ECMV
MAINTENANCE STANDARD OF STATOR CLUTCH ECMV
MAINTENANCE STANDARD OF TRANSMISSION
MAINTENANCE STANDARD OF TRANSMISSION ECMV
MAINTENANCE STANDARD OF MAIN RELIEF VALVE AND TORQUE CONVERTER RELIEF VALVE
MAINTENANCE STANDARD OF TRANSMISSION LUBRICATION RELIEF VALVE
MAINTENANCE STANDARD OF BEVEL GEAR SHAFT, HSS, AND BRAKE
MAINTENANCE STANDARD OF BRAKE CONTROL VALVE
MAINTENANCE STANDARD OF BRAKE ECMV
MAINTENANCE STANDARD OF BRAKE SOLENOID VALVE
MAINTENANCE STANDARD OF SUDDEN STOP PREVENTION VALVE
MAINTENANCE STANDARD OF FINAL DRIVE
MAINTENANCE STANDARD OF SPROCKET
MAINTENANCE STANDARD OF SPROCKET TOOTH PROFILE FULL-SCALE DRAWING
UNDERCARRIAGE AND FRAME
MAINTENANCE STANDARD OF MAIN FRAME
MAINTENANCE STANDARD OF SUSPENSION
MAINTENANCE STANDARD OF TRACK FRAME AND IDLER CUSHION
MAINTENANCE STANDARD OF IDLER
MAINTENANCE STANDARD OF TRACK ROLLER
MAINTENANCE STANDARD OF CARRIER ROLLER
MAINTENANCE STANDARD OF TRACK SHOE (SEALED AND LUBRICATED TYPE)
MAINTENANCE STANDARD OF TRACK SHOE (GREASE FILLING TYPE)
MAINTENANCE STANDARD OF SINGLE SHOE AND HEAVY DUTY SHOE
HYDRAULIC SYSTEM
MAINTENANCE STANDARD OF HYDRAULIC TANK
MAINTENANCE STANDARD OF SCAVENGING PUMP
MAINTENANCE STANDARD OF STEERING LUBRICATION PUMP AND POWER TRAIN PUMP
MAINTENANCE STANDARD OF WORK EQUIPMENT AND HSS PUMP
MAINTENANCE STANDARD OF PC-EPC VALVE
MAINTENANCE STANDARD OF HSS MOTOR
MAINTENANCE STANDARD OF CONTROL VALVE
MAINTENANCE STANDARD OF SELF-PRESSURE REDUCING VALVE
MAINTENANCE STANDARD OF QUICK DROP VALVE
WORK EQUIPMENT
MAINTENANCE STANDARD OF CYLINDER STAY
MAINTENANCE STANDARD OF FRONT WORK EQUIPMENT
MAINTENANCE STANDARD OF CUTTING EDGE AND END BIT
MAINTENANCE STANDARD OF BLADE LIFT CYLINDER
MAINTENANCE STANDARD OF BLADE TILT CYLINDER
MAINTENANCE STANDARD OF VARIABLE MULTI-SHANK RIPPER
MAINTENANCE STANDARD OF VARIABLE GIANT RIPPER
MAINTENANCE STANDARD OF RIPPER LIFT CYLINDER
MAINTENANCE STANDARD OF RIPPER TILT CYLINDER
CAB AND ITS ATTACHMENTS
MAINTENANCE STANDARD OF CAB MOUNT

80 APPENDIX
CONTENTS
AIR CONDITIONER SYSTEM
PRECAUTIONS FOR REFRIGERANT
AIR CONDITIONER COMPONENT
SPECIFICATIONS OF AIR CONDITIONER
CONFIGURATION AND FUNCTION OF REFRIGERATION CYCLE
OUTLINE OF REFRIGERATION CYCLE
COMPONENT PARTS OF AIR CONDITIONER SYSTEM
AIR CONDITIONER UNIT
CONFIGURATION DIAGRAM OF AIR CONDITIONER UNIT
FUNCTION OF AIR CONDITIONER UNIT
COMPONENT PARTS OF AIR CONDITIONER UNIT
FUNCTION OF EVAPORATOR AS AIR CONDITIONER UNIT COMPONENT
FUNCTION OF HEATER CORE AS AIR CONDITIONER UNIT COMPONENT
FUNCTION OF EVAPORATOR TEMPERATURE SENSOR AS AIR CONDITIONER UNIT COMPONENT
FUNCTION OF SERVO MOTOR AS AIR CONDITIONER UNIT COMPONENT
STRUCTURE OF EXPANSION VALVE AS AIR CONDITIONER UNIT COMPONENT
FUNCTION OF EXPANSION VALVE AS AIR CONDITIONER UNIT COMPONENT
OPERATE EXPANSION VALVE AS AIR CONDITIONER UNIT COMPONENT
FUNCTION OF TRIPLE PRESSURE SWITCH
AIR CONDITIONER CONTROLLER
STRUCTURE OF AIR CONDITIONER CONTROLLER
COMPRESSOR
STRUCTURE OF COMPRESSOR
SPECIFICATIONS OF COMPRESSOR
FUNCTION OF COMPRESSOR
CONDENSER
STRUCTURE OF CONDENSER
SPECIFICATIONS OF CONDENSER
FUNCTION OF CONDENSER
RECEIVER DRIER
STRUCTURE OF RECEIVER DRIER
SPECIFICATIONS OF RECEIVER DRIER
FUNCTION OF RECEIVER DRIER
SENSORS FOR AIR CONDITIONER SYSTEM
STRUCTURE OF SUNLIGHT SENSOR
FUNCTION OF SUNLIGHT SENSOR
STRUCTURE OF AMBIENT TEMPERATURE SENSOR
FUNCTION OF AMBIENT TEMPERATURE SENSOR
EXPLANATION OF PROCEDURE FOR TESTING AND TROUBLESHOOTING OF AIR CONDITIONER
CIRCUIT DIAGRAM AND ARRANGEMENT OF CONNECTOR PINS FOR AIR CONDITIONER
AIR CONDITIONER SYSTEM DIAGRAM
INPUT AND OUTPUT SIGNALS OF AIR CONDITIONER CONTROLLER
FUNCTION OF AIR CONDITIONER CONTROLLER
INSTALLATION LOCATIONS OF AIR CONDITIONER PARTS AND ARRANGEMENT OF CONNECTORS
TESTING AIR LEAKAGE (DUCT)
METHOD FOR TESTING AIR LEAKAGE (DUCT)
EXPLANATION FOR TESTING AIR CONDITIONER USING SELF-DIAGNOSIS FUNCTION
HOW TO OPEN THE ELECTRICAL SYSTEM ABNORMALITY RECORD SCREEN IN SERVICE MODE OF THE MACHINE MONITOR
TEST VENT (MODE) CHANGEOVER
METHOD FOR TESTING VENT (MODE) CHANGEOVER
TESTING FRESH/RECIRC AIR CHANGEOVER
METHOD FOR TESTING FRESH/RECIRC AIR CHANGEOVER
TEST SUNLIGHT SENSOR
METHOD FOR TESTING SUNLIGHT SENSOR
TEST (TRIPLE) PRESSURE SWITCH FOR REFRIGERANT
METHOD FOR TESTING (TRIPLE) PRESSURE SWITCH FOR REFRIGERANT
TEST RELAYS
METHOD FOR TESTING RELAYS
AIR CONDITIONER TROUBLESHOOTING CHART 1
AIR CONDITIONER TROUBLESHOOTING CHART 2
INFORMATION DESCRIBED IN TROUBLESHOOTING TABLE
FAILURE CODE [879AKA] A/C Recirculation Air Temperature Sensor Open Circuit
FAILURE CODE [879AKB] A/C Recirculation Air Temperature Sensor Short Circuit
FAILURE CODE [879BKA] A/C Fresh Air Temperature Sensor Open Circuit
FAILURE CODE [879BKB] A/C Fresh Air Temperature Sensor Short Circuit
FAILURE CODE [879CKA] Ventilating Sensor Open Circuit
FAILURE CODE [879CKB] Ventilating Sensor Short Circuit
FAILURE CODE [879DKZ] Sunlight Sensor Open Circuit or Short Circuit
FAILURE CODE [879EMC] Ventilation Damper Malfunction
FAILURE CODE [879FMC] Air Mix Damper Malfunction
FAILURE CODE [879GKX] Refrigerant Pressure Input Signal Out of Range
A-1 TROUBLESHOOTING FOR POWER SUPPLY SYSTEM (AIR CONDITIONER DOES NOT OPERATE)
A-2 TROUBLESHOOTING OF COMPRESSOR SYSTEM (AIR IS NOT COOLED)
A-3 TROUBLESHOOTING FOR BLOWER MOTOR SYSTEM (NO AIR COMES OUT OR AIR FLOW IS ABNORMAL)
A-4 TROUBLESHOOTING FOR FRESH/RECIRC AIR CHANGEOVER
TROUBLESHOOTING USING GAUGE PRESSURE
CONNECTION OF SERVICE TOOL
METHOD FOR CONNECTING SERVICE TOOL
PRECAUTIONS FOR DISCONNECTING AND CONNECTING HOSES AND TUBES IN AIR CONDITIONER PIPINGS
HANDLE COMPRESSOR OIL

90 CIRCUIT DIAGRAMS
CONTENTS
HYDRAULIC CIRCUIT DIAGRAM
SYMBOLS USED IN HYDRAULIC CIRCUIT DIAGRAM
POWER TRAIN HYDRAULIC CIRCUIT DIAGRAM
HYDRAULIC CIRCUIT DIAGRAM (1/2)
HYDRAULIC CIRCUIT DIAGRAM (2/2)
ELECTRICAL CIRCUIT DIAGRAM
SYMBOLS USED IN ELECTRICAL CIRCUIT DIAGRAM
ELECTRICAL CIRCUIT DIAGRAM (1/16)
ELECTRICAL CIRCUIT DIAGRAM (2/16)
ELECTRICAL CIRCUIT DIAGRAM (3/16)
ELECTRICAL CIRCUIT DIAGRAM (4/16)
ELECTRICAL CIRCUIT DIAGRAM (5/16)
ELECTRICAL CIRCUIT DIAGRAM (6/16)
ELECTRICAL CIRCUIT DIAGRAM (7/16)
ELECTRICAL CIRCUIT DIAGRAM (8/16)
ELECTRICAL CIRCUIT DIAGRAM (9/16)
ELECTRICAL CIRCUIT DIAGRAM (10/16)
ELECTRICAL CIRCUIT DIAGRAM (11/16)
ELECTRICAL CIRCUIT DIAGRAM (12/16)
ELECTRICAL CIRCUIT DIAGRAM (13/16)
ELECTRICAL CIRCUIT DIAGRAM (14/16)
ELECTRICAL CIRCUIT DIAGRAM (15/16)
ELECTRICAL CIRCUIT DIAGRAM (16/16)
INDEX

-