---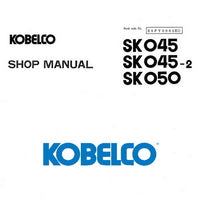 This complete service repair workshop manual PDF download for the Kobelco SK045, SK045-2, SK050 Mini Excavator has easy to read text sections with top quality diagrams, pictures and illustrations. The step by step instructions show you how to fault find or complete any repair or overhaul, correctly and efficiently, saving time and avoiding costly mistakes. All specifications and tolerances are listed. Functions of components and systems are also explained.


APPLICABLE MACHINES :

PY-02001~
PZ-00101~


TABLE OF CONTENTS :

1. GENERAL
2. SYSTEMS
3. COMPONENTS
4. TROUBLESHOOTING
5. ENGINE


MANUAL SPECIFICATION :

File Format : PDF
Language : English
Printable : Yes
Searchable : Yes
Book code No. : S5PY0002E1
Total Pages : 532


This manual is designed for those who are engaged in maintenance work. It explains procedures for disassembly, reassembly, inspection and maintenance, standard values for maintenance, diagnosis of trouble and brief specifications for each part of the machine. Use this manual as a reference guide and as a means of improving your maintenance techniques in your day to day service activities.

This service repair workshop manual PDF download contains specs, diagrams, actual real photo illustrations, and schemes. In addition to space savings, nice thing about having completly searcheble PDF files instead of a hard-printed manual is that you can use the Search feature in your PDF reader software (Adobe Acrobat) to find just what your looking for and just print out the exact pages you need or all manual easily. This is the same Repair Service manual your local dealer will use when doing a repair.

-